Vivian Howard is a seasoned chef, a Restaurant owner, television personality, and writer. She is credited with being the founder of Chef & The Farmer, Boiler Room, and Benny's Big Time restaurants.
Furthermore, a deep dive into her career also revealed that she hosted the award-winning show, 'A chef's life.' Examining her personal life, she is the mother of twins. Read this to know Chef Vivian Howard's net worth. Meet her husband Ben Knight and their Kids.
Vivian Howard TV Shows and Career.
Growing up, Chef Vivian dreamt of becoming an author. She'd achieve this goal after writing several books throughout her career.
Chef Howard is a culinary expert who once worked as a marketing executive. Her career trajectory began when she attended the Institute of Culinary Education based in New York.
Upon graduating from the institution, she was brought on to intern at Wylie Dufresne's restaurant named wd~50. She went on to receive more training under the guidance of one Jean- Georges Vongerichten's. They worked together at Spice Market.
Thereafter, she tied the knot to her Voyage colleague, and the two would gradually start a home-based soup selling-business in Harlem. Vivian's parents loaned them the money they needed to fund their restaurant in Kinston.
Vivian and Ben used this money to move to North Carolina in 2005. Their restaurant mostly serves modern interpretations of cuisines based on recipes that stretch back multiple generations. Most of these recipes come from Eastern North Carolina Community.
In 2013, the couple launched the Boiler Room in Kinston. A few years later, the two started Benny's Big Time Pizzeria in Wilmington, NC.
A Chef's Life officially aired in 2011. Vivian's desire to explore the stories of local farmers sparked a desire to document these stories. To that extent, she reached out to her Childhood friend and Documentary specialist, Cynthia Hill.
The former paved the way for PBS and South Carolina Educational Television to come calling. A Chef's Life spanned for five seasons, dating from 2013 to 2017.
Books.
Vivian is the author of two books. Deep Run Roots: Stories and Recipes was officially released back in 2016. This project was more than just a commercial exploit for Chef Howard. Her work was the embodiment of everything she believed in, an amalgamation of recipes, and the very history behind each of them.
In 2020, her publishing firm released 'This will Make it Taste Good: A New Path to Simple Cooking.' The book was based on Vivian exploring the simplest kitchen ingredients to create impactful recipes.
Net worth.
Vivian Howard's wealth entirely comes from her restaurants, television cook shows, and critically acclaimed books. For instance, This will Make it Taste Good, retails for $27 on Amazon. As the author, Vivian is entitled to a significant chunk of this profit. Currently, Chef Vivian Howards's net worth sits at $6 million.
Vivian Howard's Marriage with her husband Ben Knight.
Ben and Vivian met while working at the restaurant Voyage. They were the establishment's very employees. Their love for food proved to be the unifying factor that lit the flames of passion.
Soon after, the two were walking down the aisle. A little way down the road, they had twins named Theo and Flo.
The family of four presently live in Deep Run, North Carolina, near Kinston, which Vivian likes to refer to as the middle of nowhere. Their house is a huge modern farmhouse, with enough space for chickens, dogs, and a studio for her husband to paint.
Ben and Vivian achieved lots of success with their Television series. Consequently, it increased the popularity of their restaurants. They support each other and their business ideas.
Her Husband Ben Knight's Net worth, Career, Wiki.
Ben Knight is an artist and co-founder of Chef & the Farmer. Additionally, he is also a top figure at the Vivian Howard Restaurant Group. Ben is a proud native of Chicago, though he now lives with his wife and kids in North Carolina. He currently runs three restaurants and a production company with his better half.
Ben likes spending time with his family and constantly spends time playing basketball with them. He is an NC artist and is one of the board members for the NC Rural Center.
Other than that, Knight also works at SOCO Gallery and is one of the first speakers for SOCO's gallery, "Meet the artist."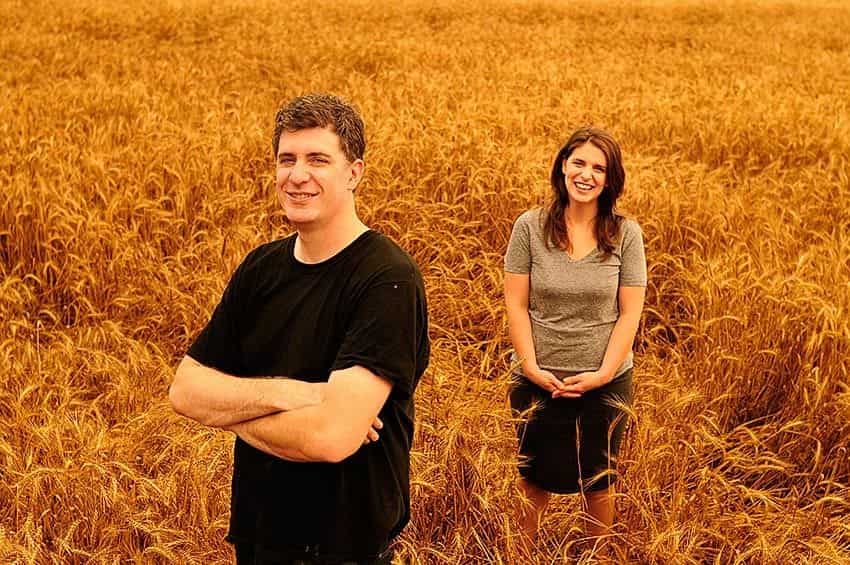 Vivian Howard Weight Loss.
Chef Vivian maintains her weight by sticking to a routine. She has come a long from her college days when her weight fluctuated constantly. She learned that maintaining food habits can bring significant changes to her body. After the release of her cookbook in 2016, Vivian decided to kick her fitness up a notch.
Her daily routine involves rising at 6.45 am and drinking 3 glasses of cold water as soon as she wakes up. This is a practice she has kept up for several years now.
Additionally, she also believes in implementing plenty of fruits and vegetables in her daily diet. She got this idea from her dad, who uses it to manage his pre-diabetes. Vivian also takes care of her family's diet.
She learned to keep potatoes and rich, creamy sauces away and to eat proteins and fibrous foods, making them taste amazing with her recipes.
Awards and Achievements.
Chef & The Farmer has consecutively received AAA Four Diamond Awards. It also received the Wine Spectator Award of Excellence in 2009.
Vivian's television Series "A Chef's Life" has also received various awards, including Peabody winner for Excellence in Broadcasting in 2014, a Daytime Emmy Winner in 2015, and James Beard Foundation Award in 2016.
In2017, she won the IACP Cookbook Awards in 4 categories: Cookbook of the Year, Julia Child First Book Award, Chefs & Restaurants Award, and General Award.
Wiki and other facts.
Vivian was born to Scarlett Howard and John C. Howard, one of the greatest farmers to have come from Lenoir county.
She grew up in Deep Run, North Carolina, with three sisters. Laraine Tolston is the founder of Queen Street Deli.
Her parents raised hogs and grew tobacco, cotton, soybeans, and corn.
Vivian attended Moravian Boarding when she turned She then had a 2-year stint at Virginia Episcopal School.
She graduated with a degree in BA in the English language from North Carolina State University.
Chef Vivian also studied in Argentina for a semester. Her program encompassed the culinary When she came back, Vivian moved to New York City to work for an advertising firm Grey Worldwide.
She later quit the job and worked as a Waitress at Voyage Restaurant-this is where she met her current husband, Ben Knight.