Rachael Domenica Ray is a reality television host, writer, entrepreneur, and chef. She was propelled to fame by her work on television shows such as 30 Minute Meals and the Rachel Ray Show.
Her excellent standing with the Food Network has also seen her appear in other culinary based shows like Iron Chef America.
Rachel is married to a man named John M. Cusimano. He is a musician who has released tracks like 'Don't Know Where I Belong.' It was released five years ago. Here are 13 facts about Rachael Ray's husband.
Story of How Rachael Ray and John M. Cusimano Met.
The story of how Rachael and her husband met is both charming and funny. Chef Ray and her husband both attended a party that one of their mutual friends had thrown.
They found that they had a lot in common, particularly their love for the culinary arts.
John also joked that he and his wife were the only short people at the party, and that is why they naturally gravitated towards each other. Cusimano's friend had been trying to set him up with Rachel for a long time, and he finally found a crafty way to do it.
Despite not being a chef, John had helped make some of the foods that were served at the party; and it was exemplary, to say the least. So much so that Rachael took notice. Now comes the hilarious bit.
Because he was not a chef, Rachael assumed that he must have been gay. Even though she felt disappointed, Ray offered to set him up with one of her Italian male friends.
To Rachael's relief, John told her that he was not attracted to men. That night, the pair of them stayed up talking late into the night; 4 am to be exact. It marked the start of a beautiful relationship.
Rachael Ray and Husband John M. Cusimano's Marriage.
John M. Cusimano and Rachael Ray officially tied the knot on the 24th of September, 2005. The beautiful ceremony was held in Montalcino, Tuscany, Italy. To date, the two have been married for 17 years.
They have stayed together despite all the hurdles and hardships that life has thrown at them. So what makes their marriage work so well? Communication, for one, has been vital.
In an interview, Rachael revealed that when her husband was being difficult to deal with, she quickly pointed it out. He does the same if she is an unreasonable one.
Another thing they do to maintain a healthy marriage is to ensure that they do not let unresolved issues and emotions fester. In fact, they even scream at each other if necessary!
After everything is out of their system, they kiss, she cooks, and John makes drinks. Dealing with their issues, head-on has helped them stay together all of these years.
Another critical thing that has helped them nurture a strong bond is their ability to find humor and joy in the little things. Rachael always says that less seriously you take yourself, the more likely you are to see the brighter side of life. After putting in a hard day's worth of work, they both find time to hang out and enjoy each other's company.
Even though Rachael is the professional chef in the family, her husband regularly cooks for her. Rachel once revealed that John even makes a special meal for her whenever she is feeling under the weather. He cooks up an escarole-and-white bean soup, which is not an easy dish to make. You have to get ingredients like whole wheat pasta, bean, sausages, garlic, and chicken stock.
For the last decade or so, John and Rachael have also had a special Valentine's Day tradition. John always brings his wife the perfect gift; a playlist full of remarkable songs. Surprisingly, the two do not have any children, despite being married for so long. John is committed to his music, whereas Rachael has focused on building her culinary empire.
It is fair to say that they would not have enjoyed the same levels of success if they had thrown in children to the mix. In 2015, John and his wife made their way back to Italy and renewed their vows on their 10th anniversary. They even brought their friends and family along to bear witness (100 guests in total).
Rachael Ray and Husband John M. Cusimano Have No Kids Yet.
The closest thing that John and his wife have to children is their dog, Isaboo. Rachael has admitted that she'd not make the best mom. Both she and her husband worried that they wouldn't be able to give the children their full attention.
Sadlu, Isaboo passed away last May 2020.
John M. Cusimano cheating allegations.
Being married to a rock star comes with its share of disadvantages. A key one is that most musicians often stray away from their better halves.
This is because of their budding star power, and the fact that some fans will literally and figuratively bend over backward to sleep with their favorite performers.
Unsurprisingly, the ink had not dried on John and Rachel's marriage certificate when a rumor began to circulate that he had had an affair.
A Gossip column ran an article that claimed that John M. Cusimano had hired a prostitute. It wasn't even the worse part of the story.
The news outlet went on to further claim that John had asked the sex worker to put her feet in his mouth and spit on him.
Both John and Rachel denied these allegations. However, these rumors did not die now. The news outlets were at it again in 2013.
This time, the Daily Mail came out with a story that Rachael's husband was a regular at Checkmate. This was a famous high-end swinger's club, which suggests that its members engaged in sexual activities with each other.
At one point, sources say that John even took a woman to the club.
John M. Cusimano is a Famous Singer.
Rachael Ray's husband is a very talented musician. He is the leader of The Cringe, an American Indie rock band. It was formed in New York back in 2004.
The rest of his bandmates are Jonny Blaze, James Rotondi, and Shawn Pelton. Besides singing, John is also proficient when it comes to the guitar. Cusimano also writes most of the band's music.
The band has signed with multiple labels over the years. These include the likes of Listen Records and Mega force. Some of the albums they have released are Tippin Point, Play Thing, Scratch the Surface, Blind Spot, and Hiding in plain sight
The band's immense success has seen them open for popular groups like Motley Crue, Steel Panther, and even Fuel. John's love for music dates all the way back to his youth.
Like many teenagers, he yearned to express himself creatively. Since he had two left feet and was terrible at drawing, the only option left was music.
John M. Cusimano's Age & DOB.
Cusimano was born on August 19th, 1967, in America. Presently, he is 56 years old. Being a Leo, his ambition and creativity are evident, especially in relation to his exploits in music and television.
While we should always subscribe to the notion that one is innocent until proven guilty, we can't help but point out some elements of his dishonest nature.
He works in Hollywood.
John Cusimano is a very talented man. Other than music, he has also displayed a lot of skills when it comes to making television. Some of his acting credits on TV include guest appearances on popular shows like Crashing, where he played himself!
Not being content with just acting, John has also tried a hand at producing several shows. He is credited with working on series like Entertainment Tonight and True Hollywood Story.
Besides working on television, he also featured on several other films. These include titles like World War Mud and Rurouni Kenshin: Wandering Samurai.
Rachael Ray's Husband John M. Cusimano is a pretty good mixologist.
A mixologist is a special kind of bartender who specializes in making cocktails. Mixology is a skill that John has developed over the years.
As such, he and his wife make a perfect team. Rachael usually handles the cooking as her husband focuses on the drinks.
Such is John's proficiency at the trade that he has even featured on his wife's cooking series, 'The Rachael Ray Show,' to share a few tips about making drinks.
Some of the cocktails he has mastered include the Negroni Cocktail, which basically entails mixing gin and Campari.
Another popular cocktail he makes is the Lost in the Woods Cocktail. This incorporates ingredients such as Green Chartreuse liqueur, lime juice, bulbs, fennel fronds, and gin.
Lastly, he can also make a mean, Rosé Champagne Spritzer. He creates this with a combination of rosé champagne, bitters, lemon, and elderflower liqueur.
He is also an author.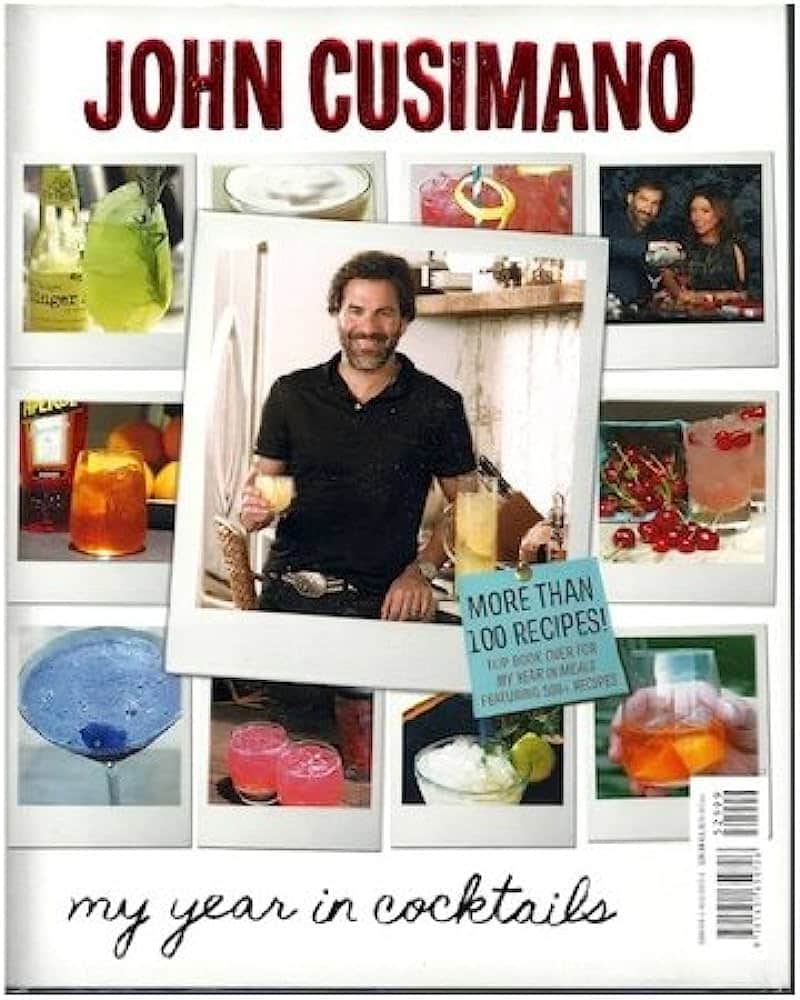 John M. Cusimano helped his wife write a cookbook back in 2012. He and Rachael collaborated to create 'My Year in Meals and My Year in Cocktails.' John was the driving force behind most of the cocktail recipes that were available in the book.
One critic remarked that Rachael Ray's recipes are made all the more delicious with the addition of John's unique cocktail recipes. His special drink recipes range from Strawberry Velvet to the festively-themed Nod.
Rachael Ray's Husband John M. Cusimano's Net Worth is $10 Million.
Being a famous musician, we can assume that John has made most of his money from his career in music. Cusimano has also appeared on several television shows, such as Rachael's Vacation, Cake Boss, and Tasty Travels.
Both of these titles have helped build his net worth. We should also take the book which he and his wife wrote into account.
My Year in Meals, for instance, is available for $20 on Amazon. Both John and his wife Rachael generate income from the royalty cheques they receive.
John M. Cusimano's net worth stands at $10 million as of 2023. His wife Rachael, on the other hand, makes $25 million every year.
This comes from her career as a celebrity chef, television personality, and author.
As of 2023, Rachael Ray's net worth is $100 million, which is ten times the value of her husband's. As her husband, John is able to enjoy all the benefits that come with this wealth.
Back in 2008, he and his wife purchased a 6-acre property valued at $6 million in New York. The couple additionally owns a cabin up in Lake Luzerne, which they have expanded to encompass over 200-acres. They bought the property for $118,000.
A short bio on his wife, Rachael Ray.
John Cusimano's wife is a businesswoman, television star, and producer. She is famous for featuring in shows such as Rachael's Vacation.
Ray was born on the 25th of August 1968 in Glens Falls. When she was young, her mother worked as a manager at a restaurant called Albany.
It inspired Rachael to pursue a career in a similar field. Her mid-20s saw her move back to New York and work at reputable establishments like Macy's Market Place.
Over the years, Ray developed a quick and easy cooking style. This encompasses recipes that take thirty minutes or less essentially. Rachael's Sicilian origin has also influenced her cooking.
The most surprising thing about Ray is that she doesn't consider herself as an actual chef.
More so, she says that she is utterly unqualified for the job. However, having published about 28 different cookbooks, we can easily disagree.
John M. Cusimano's favorite meal.
Cusimano is the luckiest man in the world. He is married to a woman who is exceptional when it comes to cooking. One particular dish John favors is the pasta carbonara.
Rachael makes it for him on Valentine's Day. Ray also told People Magazine that she throws in a bouquet of salami, which is also his favorite.
John M. Cusimano Wiki bio.
| | |
| --- | --- |
|   |   |
| Full name | John M. Cusimano |
| Age | 56 years old |
| Date of Birth | 19th August 1967 |
| Place of Birth | United States of America. |
| Profession | TV personality, Lead singer of The Cringe, Producer |
| Net worth | $10 million |
| Wife | Rachael Ray |
| Kids | 0 |
| Nationality | American |
| Ethnicity | Caucasian |
| Zodiac Sign | Leo |
| Parents | Under review. |