Aaron Sanchez is a cuisine expert, writer, humanitarian, and reality TV host who has been featured on series like Taco Trip and Heat Seekers. The Johnson & Wales University graduate is also the proprietor of Johnny Sanchez, an establishment based in New Orleans. Looking at his career in literature, we learned that he has a book out in the market titled 'Where I Come From.'
Does he have a wife? What is his net worth? Find out everything there is to know about his tattoos. On top of this, we will list 11 interesting facts about Chef Aaron.
Who is Chef Aaron Sanchez?
Chef Aaron Sanchez is a television personality who was featured on the Food Network special, 'Chopped.' The show followed sixteen participants who put their cooking skills on display and compete for $50,000. Its first episode aired on January 13th, 2009, and it was called 'Octopus, Duck & Animal Crackers.
Over a decade later, the show is in its 54th season! As of 2023, the show is already on its 54th seasons and still counting.
With nearly 737 episodes on the entirety of the show, Chef Aaron is one of the longest-serving members of the show. The series has picked up three Critics' Choice Television Awards for Best Structured Reality Show Awards.
However, in 2017, Chef Aaron stopped appearing in the show.
Sanchez's long-standing commitment to the culinary arts has seen him earn a James Beard Award for Television Studio Program. As if that was not enough, news of his prowess reached the POTUS years. Can you guess what happened next? He was invited to the white house to be a guest host!
Chef Aaron Sanchez has also proven to be a shrewd businessman over the years. He has made good use of his popularity by partnering with IMUSA to release a line of cooking products. Other than this, the Food Detectives actor is also a humanitarian. All this has helped build his net worth.
How old is Aaron Sanchez?
Chef Aaron was born on February 12th, 1976, in El Paso, Texas. He turned 47 years old on 2023. Aquarius men usually come off as intellectual, charismatic, and thoughtful. We should also add that they are quite fiery! It explains Sanchez's personality.
His other television shows.
The Chopped judge has appeared in several different television shows, dating all the way back to when he made his Food Network debut on The Melting Pot. The show ran for two years, giving him a chance to work with another chef, Alex Garcia.
Since then, he has been on several shows. These include Aaron Loves New York, Food Detectives, Unique Eats, and The Iron Chef America Series. Most recently, Aaron has served as a guest host on 24 Hours to Hell & Back and Simply Ming.
Previously, chef Aaron starred in the show called "El Toque de Aaron" where he talks about the food, culture, and traditions of Spanish cuisine and culture.
Aaron Sanchez's Net Worth.
Chef Aaron has multiple sources of revenue. He owns several restaurants, such as the Centrico, for instance, which help generate a significant amount of money. Sanchez also makes money from his published works. Simple food, Big Flavor, for example, retails for $17. Another book, La Comida del Barrio, is on sale for $14 on Amazon.
The Iron Chef America star receives a significant chunk of money in the form of royalties for his books. Lest we forget, he has also featured in over ten shows! All of this has helped him boost his net worth and keep his wife (back when he had one) happy.  Aaron Sanchez's net worth is $4 million, as of 2023.
Chef Aaron Sanchez Tattoos.
It is no secret that the Chopped judge loves ink. His entire upper body is a canvas that he has filled with tattoos. Aaron has tattoos spread across his back, chest, arms, shoulders, and legs; hell, it'd be easier listing the parts of his body that aren't inked! In an interview he did, he said that part of his identity as a chef is a persona that echoes rebellion.
He always strives to go against the norm. However, he has admitted that at least one person is not a fan of all the tattoos, his mother! Interestingly enough, Aaron is also the part-owner of the New York-based tattoo parlor Daredevil Tattoo.
Love Life:  Chef Aaron Sanchez was Once married to Ife Sanchez Mora.
Aaron is the former husband of a Jazz singer, Ife Sanchez Mora. She is a native of Detroit and was born back in 1977. The 46-year-old artist is the daughter of two musicians. Her father, who was from Mexico, was also a jazz musician. Remarkably, it was the same genre of music her mother was interested in as well!
Growing up, she got the chance to learn from legendary musicians such as Miles Davis and Sun Ra. Recently, Ife released an album titled 'Fire Inside of Me.' Aaron and Ife, in all likelihood, met sometime in the mid-2000s. By 2009, they were walking down the aisle.
The couple had a son
Unfortunately, the pair of them only lasted four years before they got a divorce.
Chef Aaron Sanchez, former wife Ife, has even detailed the fall of their relationship in her recent album. By the look of things, Aaron is not romantically involved with anyone at the moment.
He has a Twin, Rodrigo Sanchez.
Yes, Aaron has a twin. Rodrigo and the Chopped judged are two peas of the same pod. Yet they couldn't be any more different if they tried! One is a tattooed celebrity chef, and the other is a New York City-based lawyer.
Restaurant.
The Where I come from the author is part owner of the New Orleans-based restaurant Johnny Sánchez. Aaron and his business partners open the establishment back in 2014.
A few years before this, Sanchez also helped run Centrico, which was a restaurant that specialized in Mexican cuisine. Unfortunately, the New York-based establishment closed in 2012.
https://www.facebook.com/ChefAaronSanchez/photos/a.172706512780843/2992810030770463/?type=3&theater
Another venture he was part of came even earlier than this. It was at the turn of the millennium when he partnered with Eamon Furlong to launch Paladar. The establishment was officially opened in 2001 and even went on to receive the New York Best New Eastside Restaurant of the Year award.
Top 5 Recipes.
Aaron Sanchez's Mexican Brownies.
Ingredients- These include four large eggs, 1/2 teaspoon baking powder, two sticks unsalted butter, 2 cups sugar, 1/2 teaspoon kosher salt, two teaspoons of vanilla extract, 1/4 teaspoon pequen chili powder, 2/3 cup good-quality unsweetened cocoa powder, 1 cup all-purpose flour and one teaspoon ground Mexican cinnamon.
Steps- Start by heating the oven to 350 degrees. Use a nonstick pan to melt two sticks of butter. Let everything cool before you add the vanilla, eggs, and sugar. Stir the whole mixture thoroughly.
Bring in the cinnamon, chili powder, cocoa, flour, Salt, and baking powder – mix everything until it's even.
Spread the batter across the pan and bake for about 25 minutes. Let everything cool for a while.
Beef Tacos: Tacos de Carne Asada.
Ingredients- 1 tablespoon canola oil, one flank steak, two tablespoons salsa de Arbol, 1 cup pickled jalapenos, 1/4 cup cilantro leaves, Salt & pepper, 1/4 cup chopped white onion and eight corn tortillas.
Cover the steak and pickled jalapenos for about an hour.
Heat the grill
Season both sides of the steak using Salt and pepper- put everything on the hot grill. Cook it until it's medium rear before chopping everything into quarter pieces.
Heat up a different pan. Add the tablespoon of canola oil before warming the tortillas for about half a minute. Put the tortillas together and place the meat in the middle.
Picadillo.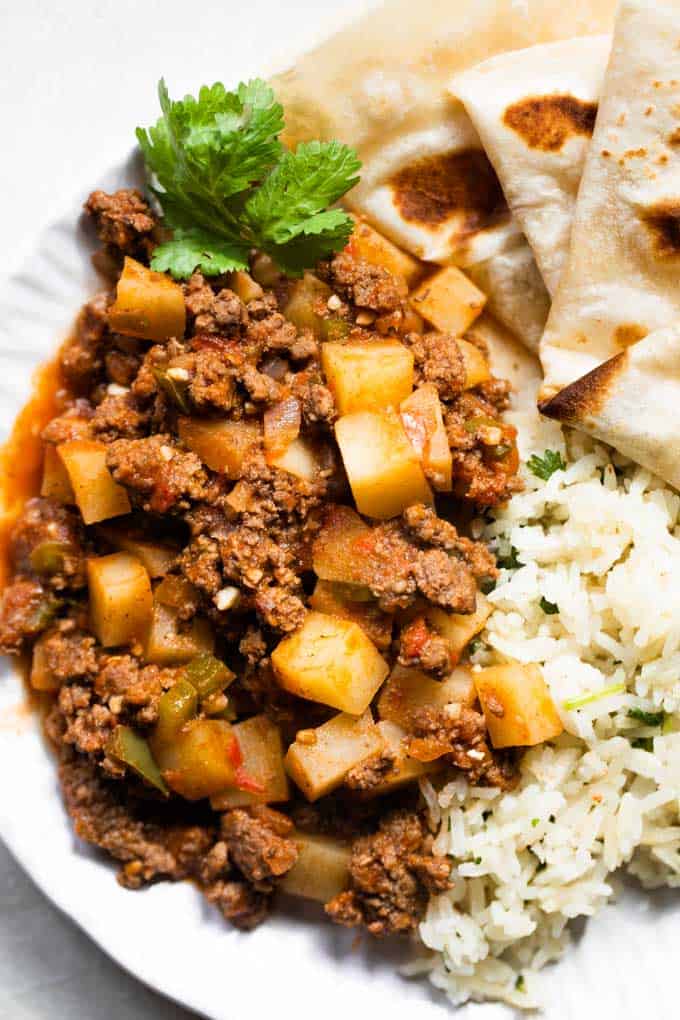 Ingredients– 1 tablespoon olive oil, 1/2 cup diced red bell pepper, 2 pounds lean ground beef, 1/2 tablespoon chopped garlic, three bay leaves, 1/2 cup chopped white onion chopped, 1/2 cup diced yellow bell pepper, one teaspoon toasted ground cumin, 1/4 cup sliced green olives, 1/4 cup parsley, chopped, Salt and pepper, 1/4 cup sliced almonds, toasted 1/4 cup golden raisins and 3/4 cup tomato paste.
Heat the oven. Add a tablespoon of olive oil before putting the beef as well.
Let it brown for about 5 minutes.
Throw in the onions, peppers, cumin, garlic, and bay leaves. Let everything stew for 7 minutes. Mix in the tomato paste, parsley, olives, almonds, and raisins. Mix everything well and season to taste with Salt and pepper.
Albondigas: Reception Meat Ball Stew.
Ingredients- 1/4 cup chopped cilantro, 2 pounds lean ground beef, 1/4 cup chopped mint, one egg, 1/2 cup masa harina mixed with 1/4 cup water, four garlic cloves minced, 1/4 cup tomato sauce, one teaspoon salt, two tablespoons red wine vinegar, 1/2 teaspoon pepper, 1/4 cup tomato sauce, 1 Anaheim chile, 1 cup chopped ripe tomatoes, one bunch scallions, two tablespoons lard, two tablespoon flour, and 1.5 quarts chicken stock.
Mix egg, meat, masa harina, pepper, Salt, and vinegar. Knead everything together until they become meatballs.
Melt the lard and mix in the flour. Add the chile, chopped tomatoes, chicken stock, green onions, tomato sauce, and garlic. Let everything boil for about a quarter an hour.
Drop each meatball in and cook for half an hour. Serve alongside mint.
Coconut Flan.
Ingredients- 1 pint of milk, three egg yolks, 8 ounces of coconut milk, six whole eggs, 8 ounces of coconut cream, two tablespoons of lemon juice, 1 cup of toasted coconut, 1/4 cup water, and 1 cup of sugar.
Mix milk, coconut milk, and cream. Boil it, and let everything simmer for a quarter an hour. Let the coconut permeate for another 15 minutes.
Make the caramel by mixing water and sugar in hot water until it darkens a little. Add lemon juice.
Introduce the caramel evenly. Add the egg yolks and mix it lightly. Fill each ramekin with the mixture. Make a water bath with hot water and cover it in a 350-degree oven for about 20 minutes.
A look at Aaron Sanchez's social media.
Aaron Sanchez is very popular on Instagram. His handle has 795,000 followers. Most of his posts relate to the culinary arts. Just recently, he made a chorizo tortilla to commemorate Cinco de Mayo. It is a holiday that celebrates Mexican culture. His site also has a link to some of the blogs to which Aaron contributes to.
https://www.instagram.com/p/B_72FhCAo6k/
Facts
| formation | Details |
| --- | --- |
| Full Name | Aaron Sanchez |
| Occupation | Chef, Television Personality |
| Birthdate | February 12, 1976 |
| Birthplace | El Paso, Texas, USA |
| Nationality | Mexican-American |
| Famous For | Judging on "MasterChef" and "Chopped" |
| Parents | Zarela Martinez and Adolfo Sanchez |
| Education | Studied culinary arts in New York City |
| Restaurants Owned | Paloma in Stamford, Connecticut; Johnny Sanchez in New Orleans, Louisiana |
| Cookbooks | "La Comida del Barrio" and "Simple Food, Big Flavor" |
| Philanthropic Efforts | Fighting against childhood hunger and supporting Latino youth in pursuing careers in the culinary arts |