Massimo Bottura is an Italian professional chef who is known for his expert cross-knowledge of entrepreneurship, culture, and technology, as well as spreading the Italian culture around the world. He is also considered one of the best chefs in the world and has ranked in the top lists of chefs.
Read this to know Massimo Bottura's Net Worth and wife Lara Gilmore.
Massimo was born on the 30th of September, 1962. He was born and raised by his parents, Luisa Bottura and Alfio Bottura, in Modena, which is in the Emilia Romagna region of Italy.
Massimo's love for cookery was obvious from an early age as the young boy grew up watching his mother, aunt, and grandmother prepare mouthwatering dishes for meals. Likewise, Italy being the cornerstone of producing an excellent variety of meals boosted his interest in cooking even more.
Talking about his education, Massimo completed his secondary school and upon completion, he tried to pursue a degree in law at the University of Modena. However, he did not complete his studies as he dropped out after just 2 years of studying and decided to join the family business instead.
To refine his skills in cookery, Massimo worked as an apprentice to chef Georges Coigny. He also worked with Alain Ducasse in Monte Carlo.
At the moment, Massimo has gathered a massive amount of knowledge on foods and is one of the top-notch chefs in the world.
Massimo Bottura married to Wife Lisa Gilmore.
Massimo has achieved significant success in his life due to a woman who was able to translate the vision of this Italian chef. Her name is Lisa Gilmore, the love of Massimo's life. The couple tied the knot in the early 90s.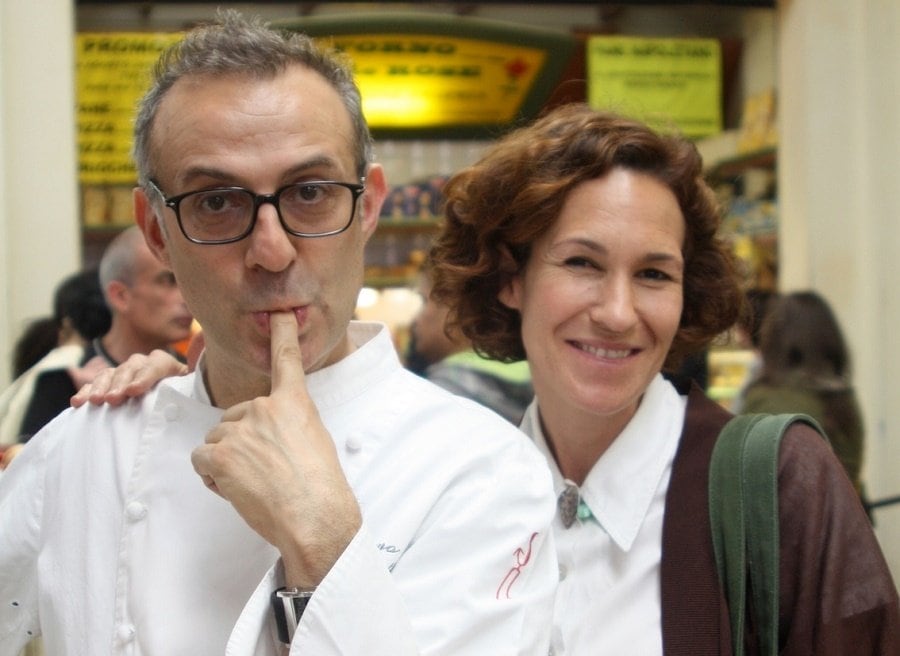 Lara is an American fine arts graduate and an entrepreneur who met Massimo in 1993 for the first time in New York City. Massimo brought her to Italy in 1994 and since then has been living with him in Italy.
Before meeting Massimo, Lara had no idea about Italian culture and foods. When she went to Italy along with her to-be husband, she was introduced to a variety of Italian cuisines that had peculiar tastes.
But Massimo Bouttura's wife Lara Gilmore came to realize that if she were to understand Italy's historic culture, then the culture begins with their food.
She is not only an amazing life partner for Massimo but also a reliable business partner. Lara helped him in establishing their very first top-ranked restaurant Osteria Francescana in 1995.
If Massimo had visions, Lara would turn them into reality.
The couple is also food activists who engage in various revolutionary food conserving projects.
Massimo Botturo and Wife Gilmore's Children.
The 61-year-old is a father of two children; 21-year-old Charlie Bottura and 25-year-old Alexa Bottura. However, life as a parent was seemingly difficult for Massimo, especially because of his busy work schedules.
In addition, his younger son was born with a rare genetic disorder that required constant care and good hygiene. Meanwhile, the eldest daughter of the family is a Business Administration graduate from American University Kogod School of Business.
Likewise, now that the children have grown up, Massimo gets to see them only once or twice a month but still manages to spend quality time with them.
How much is Massimo's net worth?
Massimo has remained reticent about a majority of his personal matters like net worth and salaries. But according to numerous genuine sources, it is expected that Massimo has a net worth of $1.6 million.
He has gathered this many sums of money from his profession as a chef and from numerous restaurants.
As mentioned earlier, Massimo has worked extensively as a chef in several restaurants and under the supervision of elite chefs. This not only gave him enough earnings but also sparked interest in him in opening his own culinary business.
Since then, he has worked day and night as executive head chef in his own restaurant.
Restaurants and their Locations.
Massimo Bottura opened his very first restaurant by the name Osteria Francescana. He established this restaurant on the 19th of March 1995 in the medieval city of Modena.
The restaurant went on to receive numerous Michelin stars over the years, its most recent one being in 2012, where it received its third star.
This restaurant is also famously known for appearing in Netflix's Chef's Table series and Master of None in 2015. Moreover, it ranked among the first among the World's 50 Best Restaurants in 2016 as well.
By joint collaborations with Marta Pulini, Massimo launched his second restaurant project in 2011, which he named Franceschetta 58, in his hometown of Modena.
His first restaurant outside of Italy was Ristorante Italia di Massimo Bottura that was opened in Istanbul, Turkey, back in May 2014.
In January 2018, Massimo launched yet another restaurant in Italy by the name Gucci Osteria da Massimo Bottura at Gucci Garden. Later, this was expanded in Los Angeles, where it is opened as Gucci Osteria da Massimo Bottura Beverly Hills.
Massimo's latest opened restaurant was in February 2019. He partnered with W Hotels to open Torno Subito at Dubai's The Palm-on-Palm Jumeriah.
Personal Achievements and Social Work.
Massimo seems to have a knack for achieving numerous milestones in his career.
In 2013, he became the youngest guest of honor at the Cancun-Riviera Maya Wie and the Ambassador for Food in the Year of Italian Culture in the US.
In 2016, Massimo and his wife founded a non-profit association, Food for Soul, together that has been working against food waste.
2019 saw an increase in Massimo's personal and professional achievements as he was listed in Time's most influential people in the world and his restaurant Gucci Osteria da Massimo Bottura was awarded a Michelin star.
In 2020, Massimo won a 2020 Webby Special Achievement Award for his amazing internet content.
| | |
| --- | --- |
| Full Name | Massimo Bottura |
| Birth Date | 30th September 1962 |
| Birth Place | Modena, Italy |
| Age | 61-years-old |
| Ethnicity | Italian |
| Nationality | Italian |
| Mother's Name | Luisa Bottura |
| Father's Name | Alfio Bottura |
| Horoscope | Libra |
| Profession | Chef, Restauranter |
| Net Worth | $1.6 million |
| Wife | Lara Gilmore |
| Children | Charlie Bottura and Alexa Bottura |