Action Bronson is an American rapper, Chef, and TV presenter. His real name is Ariyan Arslan, but he is pseudo named Mr. Baklava, Bam Bam, and Bronsolino.
With his debut album Dr. Lecter, he gained huge fame, which brought him record deals. He signed a deal with Warner Bros Records but shifted to Atlantic Records- Vice Records, and both brought him great popularity.
Read this to know Action Bronson's Net Worth in 2021.
Career.
Action Bronson's career began in the 2000s when he began as a chef and started in New York. He also started his online cooking show called "Action in the Kitchen." But his life took a turn when he broke his leg.
Bronson then dropped his cooking career to pursue his interest, and in 2008, he began creating and releasing mixtapes.
He was interested in music but had always taken it as a hobby, but it struck him to pursue music while resting due to his broken leg. Soon, on Маrсh 15, 2011, he brought his debut album, Dr. Lесtеr.
Then on 12th March 2012, he released his second mixtape. He performed at various music festivals and produced various albums.
TV Shows and Films.
Action Bronson started with the food and travel show Fuck, That's Delicious and further, in 2017, he appeared on The Untitled Action Bronson Show; this was a night food talk show, both of which were aired Viceland Channel.
He frequently has Meyhem Lauren, The Alchemist, and Big Body Bes as a guest appearance for both the shows.
He has also appeared on the comedy series 'Travelling the stars: Action Bronson and Friends Watch Ancient Aliens' that aired on the Viceland TV network, where he watches and talks about different things for entertainment purposes.
Rapper and chef Action Bronson has been part of films such as a salesman's role for The Irishman and appeared on The King of Staten Island.
Chef Action Bronson's Net Worth.
He has earned his place in the music industry with noteworthy releases and received opportunities to perform at the big music festivals, such as Coachella Valley Music and Arts Festival.
Chef Bronson was also nominated for Rookie of the Year in 2013 and Best Mixtape category for Blue Chips 2 in 2014 by BET Hip Hop Awards. He featured on the XXL Magazine's 2013 Freshman Class for the category of a list of up-and-coming rappers.
He has also accompanied Eminem for a tour in Australia.
Also, His substantial amounts of deals with Warner Bros and Vice Records have funded his accumulated wealth. These various works and accolades have managed to increase Action Bronson's net worth to $10 million, and with his ongoing projects, it is projected to further.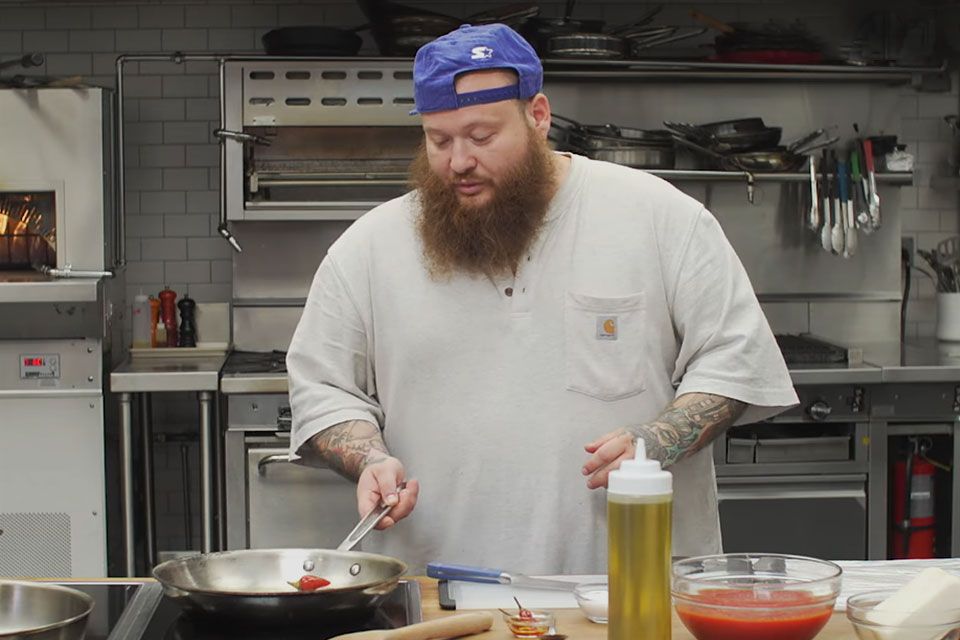 Cook Books.
Action Bronson is also a writer for his songs and has published his Cookbook in September 2017, named as per his show Fuck, That's Delicious. It has over 40 recipes inspired by his childhood, family, travel, and shows.
Action Bronson's Tattoos.
Action Bronson has lots of tattoos and to decorate his body. His first tattoo was the name of his daughter, which is on his chest. He has three such tattoos on his head.
On the right side of his head, he has A Howling lone wolf tattoo, Massive one at the back of his head is a Cathedral Tattoo and has a skull and eagle tattoo on the left side.
In a recent interview with GQ, he said that the skull and eagle are about freedom, about how he can fly anywhere, and tells us how skulls surround him.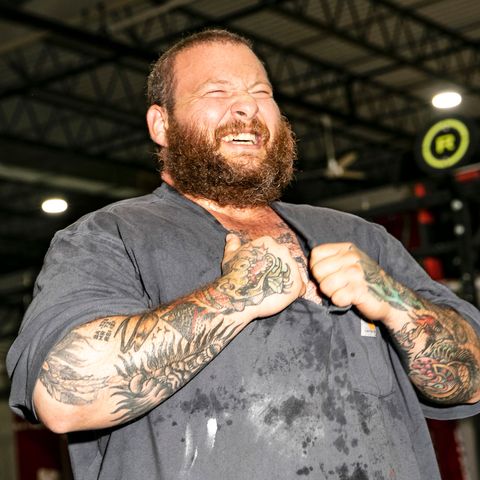 Action Bronson Height, Weight, and weight loss.
Action Bronson stands tall at 5ft. 9inches about 1.75m and weighs 112 kgs. This pandemic has proved vital for his weight loss journey as he comes down to 248 pounds from 375 pounds or from 170s kg to 112kgs.
Bronson wanted a lifestyle change as weight brought in various problems, and he worked hard to achieve those results in nine months period with the help of his personal trainer Dave Paladino.
He created a strict routine and wakes up daily at 4 a.m. to hit the gym; he has also brought changes to his diet.
FAQ.
Where is he from?
Chef Action Bronson was born on 2nd December 1983 in Flushing, New York. He grew up with his father's Muslim tradition. His father is an Albanian Muslim, and his mother is an American Jewish.
Action Bronson holds an American Nationality.
Is he Married?
Action Bronson is not married now but in a relationship with a wife-like girlfriend. He has two children, Elijah, his son, and Hannah, his daughter from a past relationship. Action Bronson also has another son Benicio from an undisclosed relationship. He was seen posting pictures of his pregnant girlfriend in October 2019 on his Instagram.