It's often said that the people who give you their food share a tiny piece of their heart. If we took that statement literally, Ainsley Harriott would have nothing left since he has been a chef since 1988.
You have probably heard of him on top cook shows on BBC, such as Can't Cook, Won't Cook, and Ready Steady Cook. If not, then stick around as we walk a mile in his shoes by highlighting Ainsley Harriott's net worth, gay status, age, family, and married life with his wife.
Ainsley Harriott is an English chef, television personality as well as entertainer ever since active from 1988. Harriott has made over a dozen appearances in films as well as shows.
His roles range from a presenter, narrator, and extras as well guest appearances as himself.
However, before he made his debut in television, Harriott was a singer and one of the founders of the Calypso Twins with Paul Boross. The pair would perform at a handful of local joints before they would hit it big.
At the time, Ainsley's day job was as a chef at the Long Room of Lord's Cricket Ground.
His debut performance to a larger audience began as a radio presenter on BBC Radio 5 Live More Nosh, Less Dosh show. His television debut was a minor role in the comedy Hale and Pace.
 He would later get a role on the Good Morning with Anne and Nick show as the resident chef. The exposure landed him his own show on Can't Cook, Won't Cook, and ultimately, Ready Steady Cook that would run for years on the BBC network.
For someone who has been active for over three decades in the entertainment industry, Ainsley Harriott's net worth ought to be high. Partly because he not only has multiple streams of income but has also had ample time to curate and streamline various business ventures.
Let's have a look at all of them and how they tally onto his current net worth.
Showbusiness pays generously, as exhibited by the luxurious lifestyle the BBC star makes. Even though there are currently no leads on his salary, sources point out a standard price of €25,000 for one show.
Factoring in his multiple TV deals, the guy must make a fortune. Moreover, he also extends his contract with the network offering better deals each year.
Ainsley Harriott is also an English icon with a fan base sprouting over his work as a published author. With over a dozen books in his library, the chef has sold over 2 million copies worldwide.
His reach also goes beyond English-speaking countries by having the books translated into different languages.
Other minor streams of income include his occasional guest appearances, voice narration, and hosting red-carpet events. Moreover, he also has an arsenal of original recopies, self-titled and products found on his website.
With that said and done, all these streams of income have Ainsley Harriott's current net worth at approximately $4 million, according to online sources. However, anybody will tell you that it's his legacy that's the real measure of his wealth.
Is Ainsley Harriott Still Married to Claire Fellows? 
For someone who hosts a show called Ready Steady Cook, his marriage is not so steady after all. Not even his cooking could save his marriage to his former wife, Claire Fellows, and that's considering food as a symbol of love when words deem inadequate. So, what really transpired between the two?
Let's go back to the beginning of their romance when he first met Claire. It was back in the 80s, before all the fame, when Harriott walked into a clothes shop and saw her.
He did everything in his power to court her, and by 1989, the pair wed.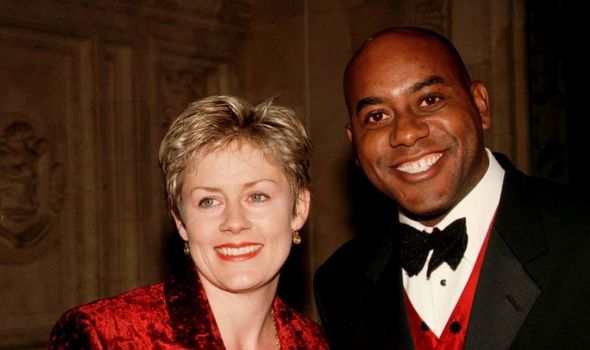 Eventually, the Harriott couple's marriage met its end in 2012 when both parents separated and moved on from their $1.4 million mansions in South London.
Even though sources point out that the couple remains friends, reasons for the fallout in their relationship seem to revolve around infidelity on Ainsley's part.
Is Ainsley Harriott Married to Wife Now?
Reports from the Daily Mail reveal that the Ready Steady Cook host might have been unfaithful to his wife back in 2004.
However, he filed a court injunction not to have the details of the mysterious woman revealed. A decade later and pro-divorce, Ainsley admitted to having already found love with his new partner. Could this be the same woman Harriott had a thing for?
Well, we might never find out, as he went on record to state that his current partner doesn't like her dirty laundry aired in public.
'I have a partner now and enjoying having love and getting to share my life with someone. That's what it's all about, isn't it?… Although she always says to me, "I'd prefer it if you didn't talk about me, thanks darling."'
He has never been spotted out with the said partner, and neither does she make any appearances on his socials. However, when she does, you'll hear it first from us.
After the news hit on his divorce from his wife, Clare Fellows, most people claimed it was because he was secretly gay. The singer went on to clarify in a series of now-deleted tweets that he is definitely not gay and loves women.
Moreover, his daughter Maddie who knows him better than anyone else, cautioned him on only dating women who are twice her age out of respect for her. That also goes to show that Ainsley Harriott is not gay.
Family

, Parents, Siblings.
Ainsley Harriott's heritage traces back to the Caribbean islands of Jamaica and Barbados. Despite being born in London, his father, Chester Harriott, and his mother, Peppy Strudwick, relocated from Jamaica in the 1950s for a fresh start.
It is here that he grew up with four other siblings. Ainsley's father was a pianist and entertainer who died at the age of 88. During his youth, he married his first wife, Petronia, who bore two other children, Jacqueline and Chester Harriott Jr.
Upon her death, Chester would later take up a second wife and magician named Claudine. With her, they had one girl, Donna Harriot, Ainsley's half-sister.
The marriage between Ainsley and Clare went on to last for 23 good years with the joy of two kids. The first was their son, Jimmy, born in 1992, and a daughter, Maddie, born three years later in 1995.
The former is currently aged 31, while the latter is only 28 years old. Both are currently doing well as young culinary wizards, having been trained well by their talented fathers.