The Amish Farm Soap is an American soap company providing natural, chemical-free products that can be used throughout our house. This versatile soap is great for your face, hair, body, and even for shaving.
Not only can it be used for personal hygiene, but the company claims it can also be used to wash utensils, laundry, and even your pets. Amish Farm Soap promises to make your hair and skin feel soft, smooth, and smell great.
Likewise, in addition to its regular soap, Amish Soap has also expanded other products, including bath bombs, since 2022. Nonetheless, the Amish Farm Soap has risen to prominence, with a renowned celebrity chef Brenda Gantt frequently promoting it.
So, now let's have a closer look at the Amish Soap and talk about its reviews.
About Amish Farm Soap: Its Ingredients and Uses
Established in 2005, Amish Farm Soap is an authentic natural, vegan, and cruelty-free beauty and wellness product that claims to cleanse and rejuvenate you. According to the company's website, the soap is handmade using a traditional family recipe and uses natural ingredients.
It can be used widely, such as for face soap, body soap, hair soap, or shaving soap, and it can also be used for pets, clothes, and dishes. Despite its versatility, the soap does not contain harsh chemicals, making it suitable for people with sensitive skin or skin conditions.
The soap is plant-based, paraben-free, sulfate-free, and does not use animal fats or allows. The cold process method is used to manufacture the soap so that the natural oils are not lost during the manufacturing process.
Now, speaking of its ingredients, it is entirely plant-based, paraben-free, and sulfate free. Some of the widely used ingredients and fragrances in the soap are wildflowers, orange, shea, cocoa butter, hemp, lavender, etc. But a scent-free option is also available.
Hence, the Amish Farm Soap is an all-natural vegan soap making it a versatile and eco-friendly choice for personal hygiene and household cleaning requirements.
Amish Farm Soap has Partnered with Brenda Gantt. 
The Facebook sensational chef, Brenda Gantt, has partnered with Amish Farm Soap to promote its products.
As Brenda frequently featured the product on her social media handles, some of her fans even thought that it was her company; however, Amish Farm Soap is not made by Brenda, but she has been involved with its brand endorsement since 2021.
On July 2022, the Amish Soap's Facebook shared Brenda's views which said,
"The natural smell. It's the real deal. I'm squeaky clean when I come out of the shower. I also wash my hair with it every now and then to get off any residue build-up from hair sprays or conditioners."
Likewise, she frequently talks about the excellent soap brand, and on August 2022, Brenda made a video on her verified Facebook Page, "Cooking with Brenda Gantt, "where she talked about just washing her face and hair with the Amish Soap.
Likewise, in the caption, she mentioned washing her hair twice a week with the Amish Soap. As per the chef, the soap removes the crazy build-ups from the hair products and makes your hair shiny and bouncy, giving you a clean experience.
Amish Soap Review by Brenda Gantt and Customers
Unlike some brand promotors, Brenda not only promotes the Amish Fram Soap but also uses them regularly. According to the chef's experience with the soap, she has given it a 5-star rating and says she loves its natural fragrance.
She said,
"I am squeaky clean when I come out of the show. I also wash my hair with it every now and then to get off any residue build up from hair sprays or conditioners."
While Brenda praised the Amish Saop, her fans, too, have seemed to try it with her recommendations and have loved it.
One of the soap users said,
"I bought the Amish Farm Soap recommended by MS Brenda Gantt. I have psoriasis, and it has worked wonders for my skin. I use it on my hair as well. I highly recommend it! I buy it in 5-bar bags. It lasts longer than store-bought soap. I will not use anything else anymore. Thank you, Amish Soap folks!
Now if you go through its testimonials, there is not a single bad review about it, and it also has 4.5 out of 5-star ratings on its Facebook Page.
"These soaps are the best on your skin, they are so moisturizing that I dont need lotion,"; read one review on the page. While the other said, "Great product especially if you're having problems with over dry & irritates pealing skin."
Hence with so much of positive reviews, Amish Farm Soap received the "Made in America Best Product Award" in November 2020 at the Smoky Mountain Gift Show.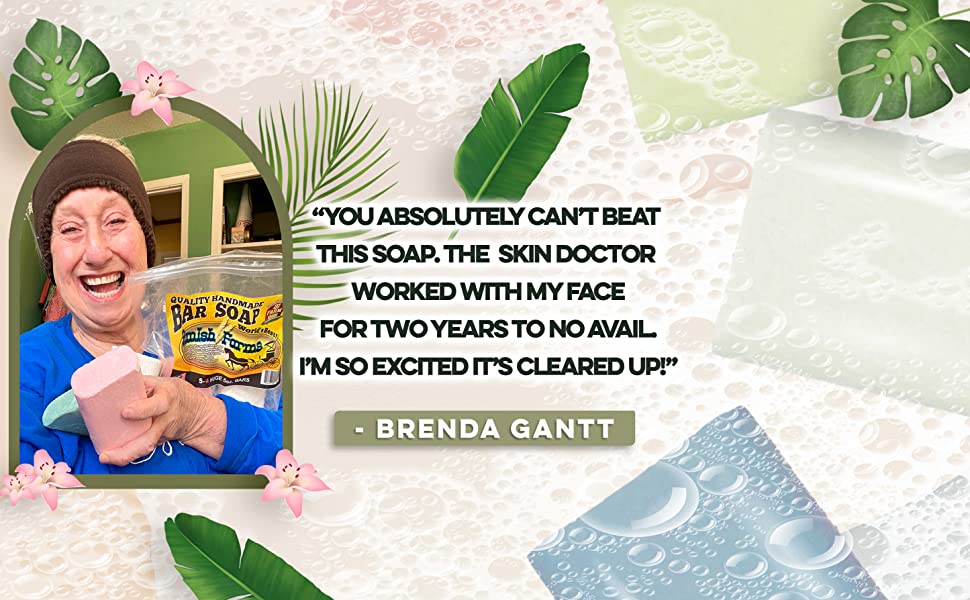 Amish Farm Soap Price & Where to Buy
Amish Farm Soap has a wide range of products at varying prices. The cheapest one costs $7.99 for a single soap bar, while the most expensive one costs $60 for 5 bars pack.
The bath bombs cost $25 for the pack of 6, and the men's soap is available for $9.99. Now, if you are interested in buying the Amish Farm Soap, you may check out its website and purchase it from the shop menu.
Apart from the website, the soap can also be purchased from various online websites like Amazon, Walmart, etc. Likewise, if you are looking to buy it wholesale, you may find it at Willow Mountain Distributors or Faire.
Nonetheless, the colony has warned its users about only buying their products from an authentic store.