Joanna Gaines, who gained popularity as an interior designer, has now earned the new title of a great cook. Admirers of the Magnolia Network celebrity have access to see her tasty recipes on Magnolia Table. In 2021, she introduced a special mac & cheese recipe to her fans in one of the episodes of her cooking show; this recipe has left her fans drooling.
Gaines prefers to prepare with butter, and on the fourth season of Magnolia Table named "Side Dishes," she cooks a delightful mac and cheese that originated from her buddy Becki's home. Joanna also shared that this recipe is her go-to food of all time.
Here, we have listed Joanna Gaines' Mac and Cheese's nutrition facts based on the amount per serving:
| | |
| --- | --- |
| Calories | 510 |
| Cholesterol | 96mg |
| Sodium | 590mg |
| Dietary Fiber | 2g |
| Sugars | 3.6g |
| Protein | 24g |
| Calcium | 42% |
| Iron | 93% |
| Potassium | 184mg |
| Total Carbohydrate | 39g |
| Total Fat | 29g |
| Saturated Fat | 16g |
| Trans Fat | 0.8g |
| Vitamin A | 21% |
| Vitamin C | 0% |
Health Benefits
Although market-based mac and cheese isn't a healthy option, the tasty Mac and Cheese recipe shared by Joanna Gaines has no such issues.
Since Joanna's recipe is all homemade, it is healthier for everyone, from adults to children, and also offers richer and creamier tastes.
Though market-bought mac and cheese is a quick and easy dinner, it often contains higher salt. In reality, that high salt content is mostly because of a preservative that keeps the value of shelf-stable meals.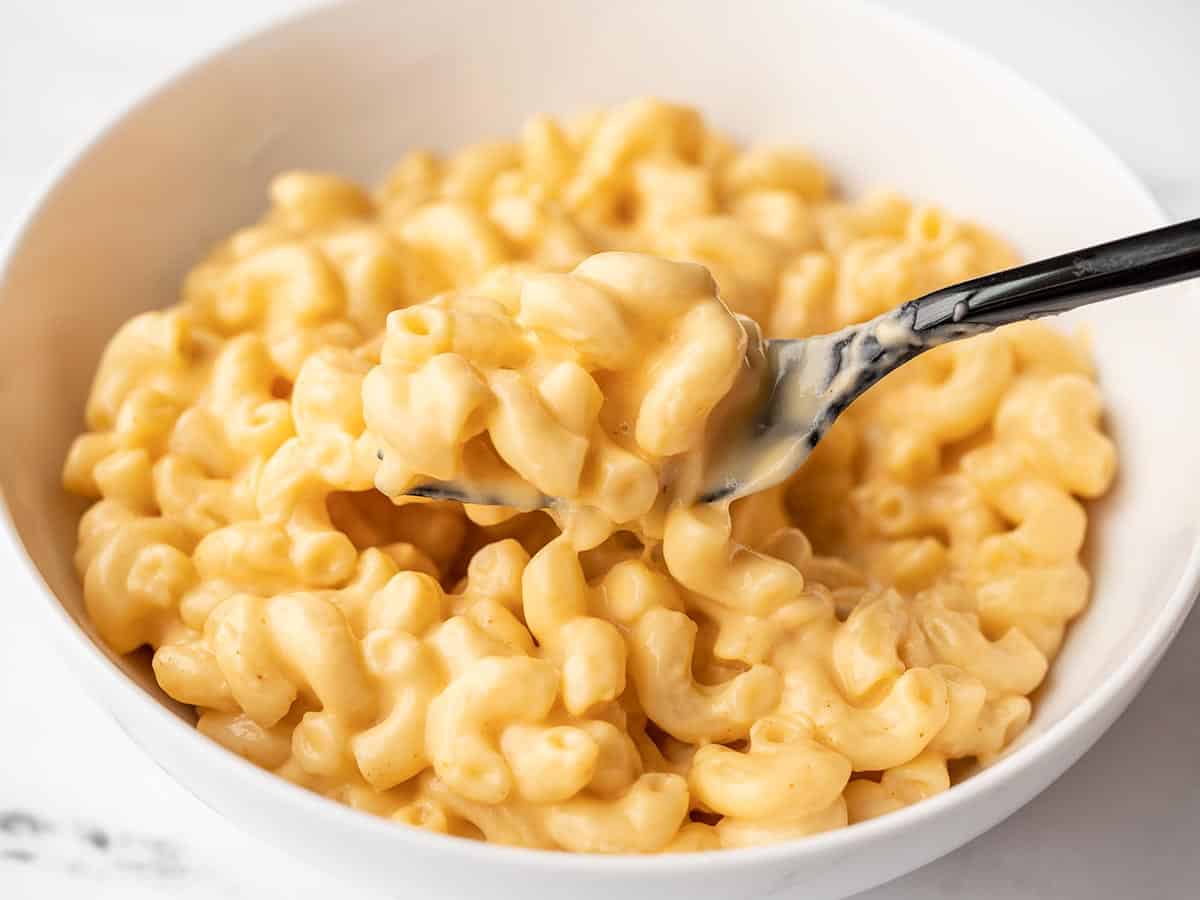 Cooking your own mac and cheese following Joanna Gaines' recipe will let you decide how much salt you prefer on your dish, adjusting as per your choice and medical requirements.
While preparing this dish at home, you can also decide on lower-fat milk in the cheese sauce, like 1% milk, or use skim milk as a substitute. Consumption of low saturated fat would also reduce the chance of chronic problems like high blood cholesterol and obesity. Likewise, replacing regular butter with ghee, coconut oil, or mostly olive oil helps to cut down saturated fat and sodium.
 Who should avoid eating Mac and Cheese?
As previously mentioned, Joanna Gaines's Mac and Cheese recipe is healthy so that everyone can enjoy it without any worries regarding their health. However, if some people have high blood pressure and cholesterol, they can use substitute ingredients to make it more healthy considering their consumption pattern.
However, a person having heart disease, high blood pressure, and type 2 diabetes should avoid eating commercial-made mac and cheese as it has high calories, which could lead to fatal health issues
Mac and Cheese is best as dinner
This dish is best as a dinner, especially can be served at a Thanksgiving dinner. Joanna Gaines's Mac and Cheese recipe will please your guests for sure.
With Joanna Gaines Mac and Cheese, you can also serve side dishes like meatloaf, coleslaw, applesauce, grilled meats, sloppy joes, cornbread, and Brussels Sprouts.
Also, Joanna has shared recipes for Green Bean Casserole and Friendsgiving Casserole, which also can be eaten as a side dish.
The taste profile of Joanna Gaines Mac and Cheese will be loved by everyone in your family as it contains all the familiar flavors of packaged mac and cheese but with a homemade touch. In fact, Gaines has improvised it with golden brown breadcrumbs and smoked cheese. It is easy to prepare that you prefer to make it whenever you want a filling meal that your whole family will treasure.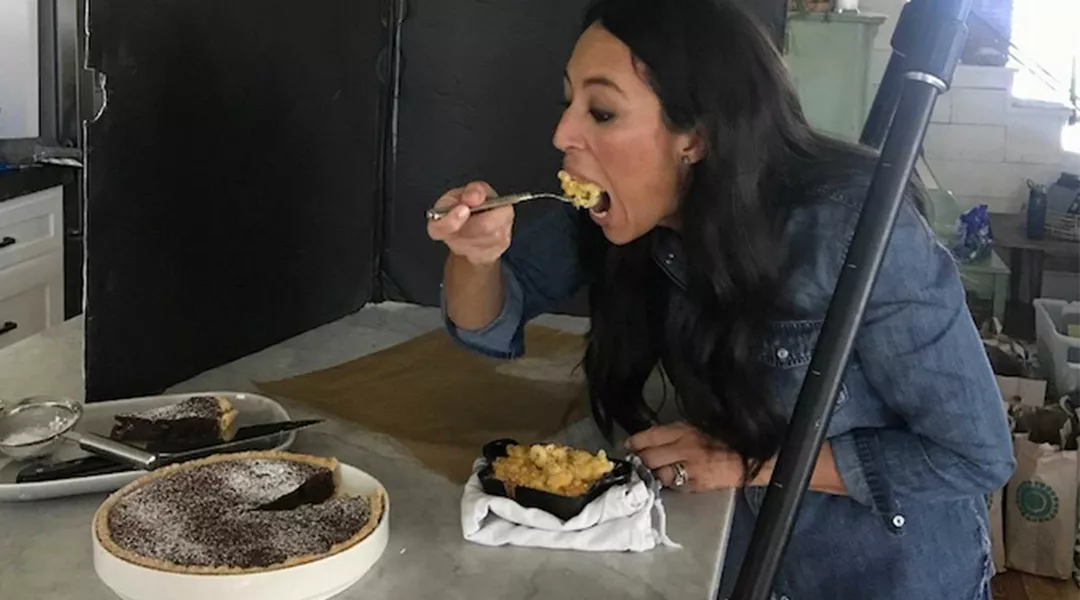 Total Time required
Joanna Gaines's Mac and Cheese recipe is delicious and a simple dish that can be easily cooked at your home. However, it may be quite difficult for the first-time maker. It takes an overall 1 hour and 12 minutes to be ready; preparation time is 20 minutes, and cook time is 52 minutes.
Ingredients:
16 ounces of elbow macaroni
Kosher salt
1 ½ cups of heavy cream
½ cup milk
Unsalted butter (8 tablespoons)
Processed cheese (8 tablespoons), like Velveeta; 1-inch cubes
Grated gruyere cheese (2 cups); 8 ounces
1 ½ T. mustard powder
½ T. ground nutmeg
1 ½ T. ground black pepper
2 cups (8 ounces) white cheddar cheese (grated)
Procedures:
Set the oven to 350 degrees Fahrenheit. Then, spray a 13*9 inch baking pan with cooking spray.
As mentioned in the package directions, you must cook pasta in salted water.
At the same time, melt the butter on medium heat or in a medium saucepan. Cook for about 3 to 4 minutes, as well as stir it frequently or until it turns golden brown.
Gradually whisk in the milk unless completely blended, also simmer and often stir it for 8 minutes until the mixture slightly thickens.
Lower the flame to medium-low and put the gouda (or gruyere cheese), and shredded cheddar. Heat until the butter is melted. Then, stir in the Worcestershire sauce, Dijon mustard, salt, pepper, and cayenne pepper, until it blends well.
Once the pasta is cooked, rinse it and mix it with the cheddar cheese cubes and cheese sauce. Place in the hot pan.
Heat the butter in a little saucepan. Firstly, toss with the bread crumbs and sprinkle over the pasta.
Bake it for 35 minutes in the hot pan. Let it cool for 10 minutes and serve it.
Cooking Advice
If you can't tolerate spicy food, this recipe can be prepared without cayenne pepper.
Replacing skim milk with whole milk will make your sauce thin and runny.
In case you don't have panko breadcrumbs, use regular breadcrumbs as a substitute. A package of panko breadcrumbs makes perfect Joanna Gaines Mac and Cheese.
It will be better to grate your own cheese since it contains lots of higher flavor than supermarket-bought.