Bertinelli is an accomplished female celebrity known for her exceptional acting and cooking skills in the American entertainment industry. The public even recognizes her as Barbara Cooper Royer from the comedy show, "One Day at A Time."
Likewise, Valerie is a Hollywood Walk of Fame-winning actress who is currently seen hosting different cooking shows based on Food Network. She shares her family-influenced easy, and delicious recipes on these shows.
But, recently, the star shared that one of her cooking shows has been canceled. Let's see which of her show is canceled and what she plans to do in the future.
"Valerie's Home Cooking" Host Said Her Show is Cancelled? What Happened?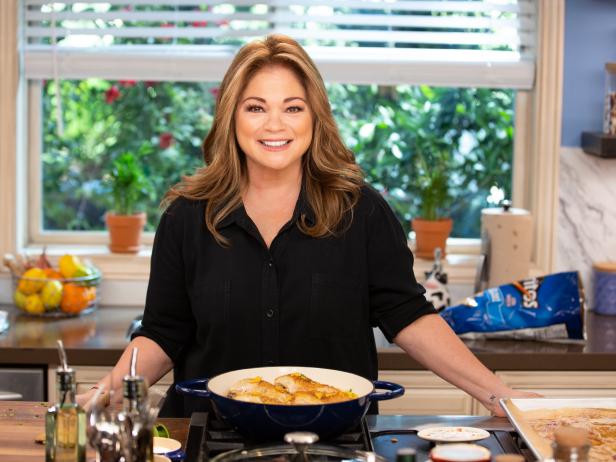 Valerie Bertinelli shared that her culinary show, "Valierie's Home Cooking," has been canceled by the Network. The program debuted on the Food Network in 2015 and concluded its thirteenth Season in July 2022.
Now while the fans eagerly await the release of the latest Season to premiere, the show's presenter has shared some good and bad updates about the series. On 8th April 2023, Bertinelli took to her Instagram account to have a small talk with her followers about their favorite show.
In the Instagram video, the cook said that the good news is that Season 14 of "Valerie's Home Cooking," will air at noon on 9th April 2023, Sunday on Food Network. However, the host sadly shared the bad news about Season 14 being the final Season of the popular show.
She sounded really sad when she said, "Food Network cancelled us last summerer. I have no idea why." Valerie told her fans that Food Network had informed her about the show's cancellation the previous year, but she thought they would eventually change their mind due to its popularity.
However, when she found that the Network was determined to cancel her show, she decided to let her fans know. Moreover, Ms. Valerie also said that she loved each moment of the show as it was a dream come true moment for her.
"Every single part of it brought me so much joy. I love the crew. I loved everybody in production. They loved making this show for you,"
noted the host emotionally.
Finally, she concluded her video message by hoping the audience would enjoy the final Season of "Valerie's Home Cooking," as each episode is made with a lot of love. Besides the video, the presenter wrote,
"it has been one of the huge joys in my life to bring you this sweet little show, and I wish it weren't." I will really, really miss it. Thank you so much for watching! 💋♥️"
The comments sections were full of supportive messages from Valerie's fans. One of the fans wrote a sweet note saying she would always watch each and every episode of  Valerie's show and would even watch her wherever her career and life would take.
Similarly, other followers claimed that her show was one of the best, and now that it has been canceled, there is nothing good on there.
Nonetheless, as per Valerie's Wikipedia bio, she is a 2 times Daytime Emmy Award winner for "Outstanding Culinary Host," on "Valerie's Home Cooking."
Does Valerie Have Any Future Plans?
Now that Valerie's Home Cooking has been canceled, the audience wonders if the host has any specific plans. However, Bertinelli is yet to make any specific comments about the future after the show.
Apart from "Valerie's Home Cooking," she also hosts another cooking show on Food Network called "Kids Baking Championship." The show has been broadcasting for the past 8 yeras, with the completion of its 11th Season in 2022.
So, we assume she will be occupied with the filming of Season 12 of the show. Likewise, as an award-winning actress, she has multiple prospects in the American entertainment industry.