Some people work day and night to become recognized personalities in the world. However, one can also achieve stardom without having to put in any extra effort. This, however, is only possible when someone is born to a famous family.
Today, we are going to talk about such celebrity kids, also known as star kids. They were thrust into the limelight due to their famous parents. However, despite being born to a reputed and recognized family, none of these children are self-centered and arrogant. In fact, they have inherited the best qualities from their parents and are equally hardworking individuals.
Who are Buddy Valastro's Children?
The kids we'll focus on today are related to none other than the famous Cake Boss star, Bartolo "Buddy" Valastro Jr. Buddy is best known for being the reality show star on TLC.
However, he is also one of the finest bakers in New Jersey. He and his wife, Lisa Valastro, together run their family business called Carlo's Bakery, where they make world-class cakes and bakery items.
Buddy Valastro has four children in total. They are Sofia, Bartolo "Buddy" Valastro III, Marco, and Carlo Valastro.
Buddy's children have the same love and passion for bakery, and needless to say, all these four young Valastros are supportive and caring towards each other. Let us take a closer look at each of them in as much detail as possible.
Buddy Valastro's Daughter Sofia Valastro.
Sofia Valastro is the first daughter in the Valastro family. She is presently in high school and also stars on the school's varsity soccer team.
Moreover, Sofia is the only daughter in her family. She was born on the 23rd of April 2003. This makes Buddy Valastro's daughter Sofia the oldest among his children.
Sofia is best known to the public for being the daughter of a professional bakery artist and a television personality, Buddy Valastro. While her father is a megastar of the TLC show Cake Boss, Sofia has also been named the baking world's next megastar.
Sofia regularly features on her father's show, helping him with baking cakes and sharing her own recipes. Many people believe that Sofia is trying to follow in the footsteps of her father. As of now, Sofia is 17 years old and is the eldest one amongst her siblings.
Some say that Sofia has inherited the baking gene from her father. Moreover, she has been filming for the upcoming season of Cake Boss, which is set to air on Discovery Family. Besides baking, she has also inherited her dad's altruistic nature. Both of them understand the importance of giving back to the community.
The Valastro clan is quite fond of Sofia. This was evident from the sweet 16 party her parents organized. Her family truly outdid themselves by throwing a lavish party for their only daughter. In total, there were 400 guests in attendance at New Jersey's Pleasantdale Chateau banquet hall.
During the ceremony, Sofia received a heartfelt speech from her father and the rest of the family, which made the moment truly memorable. Lastly, Sofia has 260k followers on Instagram.
Bartolo Buddy Valastro III.
The second in Buddy Valastro's children is Buddy Valastro III. Buddy Valastro Jr. is the first son born to the Valastro family. He was born on September 27, 2004, in New Jersey.
As of now, he is 16 years old and has a zodiac sign of Libra. Despite being such a young teenager, he leads a particularly active life. As a matter of fact, he has the most aesthetically lean body structure in the family.
Like his father and elder sister, Buddy Jr. has also featured in countless Cake Boss episodes. He is still a high school student as well. Many people regard Buddy Jr. as an underrated hero. Last year, his father was involved in a horrible accident. Luckily, Buddy Jr. was stepped in, getting his father out of the machine on time.
This prevented his arm from being amputated. Buddy Sr. took to Instagram to thank his son for his heroic act. A look at Buddy Jr.'s Instagram page reveals that he has a staggering 149k followers. Recently, he posted a picture of himself wearing a football jersey. He also regularly poses alongside his friends at college football games.
Marco Valastro.
He is the third son among Buddy Valastro's 4 children. Marco Valastro was born on the 26th of February, 2007, in New Jersey. His zodiac sign is Pisces. Marco is proudly following in his father's footsteps, just like the rest of his siblings. Moreover, he also displays a knack for making delicious dishes.
On a particular weekend, Marco took over the kitchen to make a mouthwatering filet mignon steak and red wine sauce on his father's birthday. He even filmed the whole steak and red wine sauce making process, later uploading it on his father's Instagram and TikTok account.
Buddy Sr. went on to say that Marco is an excellent steak maker. He further added that he was proud of Marco's skills in the kitchen. Examining his social media activity, we found that Marco Valastro has 94K followers on Instagram. Likewise, he has 311 followers on TikTok.
Carlo Valastro.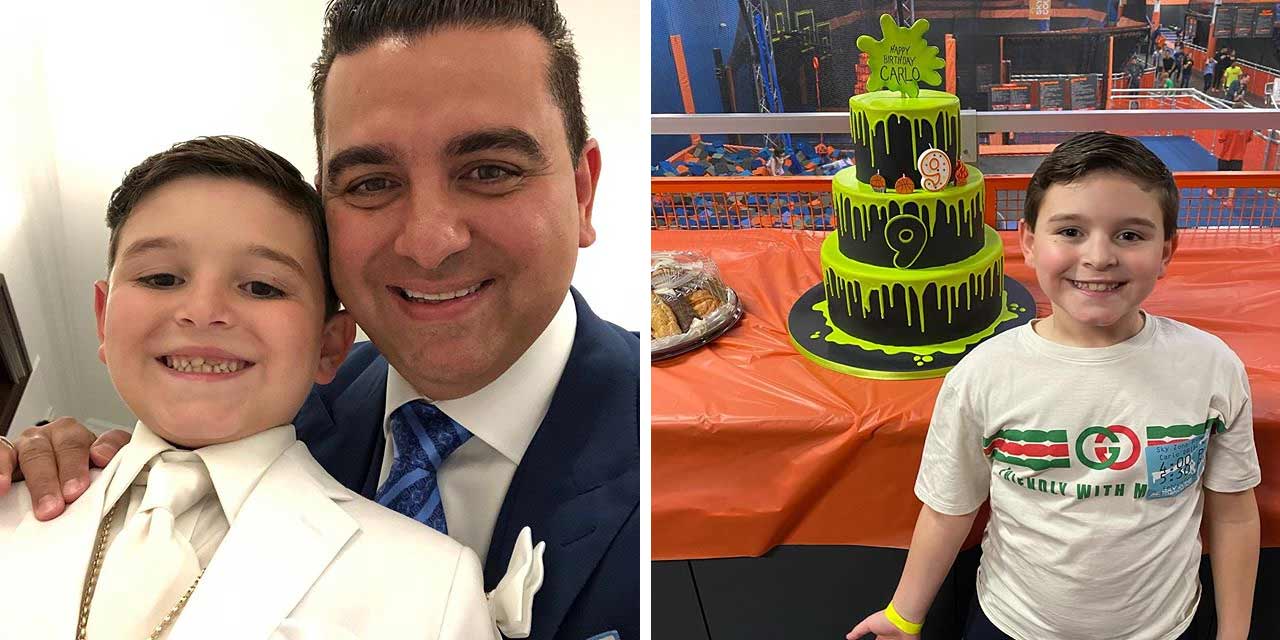 He is named after his family's bakery shop. Carlo Valastro is the youngest Valastro in the family. He was born on Valentine's Day, on the 14th of February, 2011, in Livingston, New Jersey.
At the moment, Carlo is 9-years-old, though he is set to turn 10 soon. His zodiac sign is Aquarius. Although he is still very young, Carlo still appears on his father's show and tries to learn cooking.
Not much is known about Carlo's life as he is still very young. However, what is known for sure is that being the youngest in the family, he is loved and adored by everyone.