Graham Elliot is a Washington native celebrated for his work as a chef, restaurant owner, and TV personality. Looking at his work on television, we found that he has made a number of appearances: Iron Chef and Top Chef for instance.
On the business side, records show that Chef Graham's restaurants have been the recipients of several Michelin Stars. He travels around the world experiencing mouthwatering dishes that inspire menus of his own.
Over the years, Chef Graham developed a knack for using traditional ingredients to create classic dishes. He is also a nominee for the James Beard Foundation Award. Read this to know Chef Graham Elliot's Net Worth. Meet his wife Allie Elliot and their kids.
Graham Elliot Career and TV Shows.
Records show that Chef Graham Elliot first started working at Mansion on Turtle Creek located in Texas. He then worked for Jackson House Inn & Restaurant, which is a five-star restaurant in Vermont. Successful stints at both establishments earned him recognition as the Best New Chefs by Food and Wine Magazine in 2004.
He became the youngest individual to acquire four stars from the Chicago Tribune and the Chicago Sun-Times publication. Elliot's growing fame brought about an invitation to Iron Chef America, where he came in second place, just two points shy of the winner.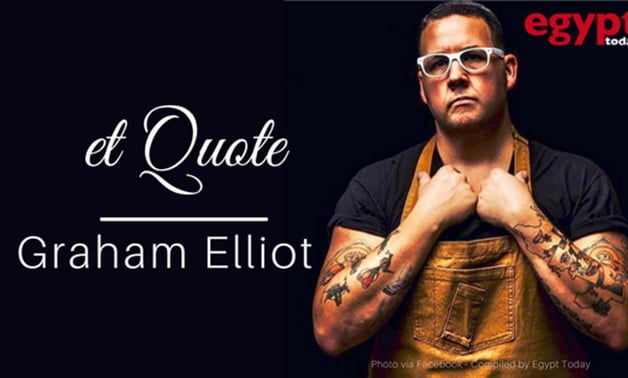 In 2008, he launched Eponymous, an establishment that has received two Michelin stars to date. Graham's establishment has had the privilege of cooking for President Obama during his 49th Birthday. The restaurant additionally earned Elliot a spot on Chicago Business 40 under Forty list.
Chef Graham also appeared on TV shows like Top Chef Masters. He then judged Masterchef, MasterChef Junior, and Bravo's Top Chef. Moreover, Elliot also worked with Gordon Ramsay for ten seasons before he departed to judge Bravo's Top Chef.
He was ushered into the Chicago Chefs Hall of Fame back in 2012. Furthermore, he also earned the title of Chef of the Year. In addition to this, Chicago's Mayor Rahm Emanuel also created a special Graham Elliot Day on September 19 for the city.
Graham is married to his wife, Allie Elliot.
Graham and Allie Elliot tied the knot back on the 20th of September 2009. This would suggest that they have been married for 12 years in total as of 2021.
Allie was a former Food & Beverage Manager at Peninsula when they first met. Graham, on the other hand, was a Chef Peninsula's Avenue.
Interestingly, the two went into business together and now reside in Chicago, Illinois with their three children. These include Mylo Ignatius, who was born on 20 January 2007, Conrad Matthias on 18th September 2010, and Jedediah Lindsay, who was born on 25th August 2012.
Graham Elliot with his wife Allie and their kids all reside together currently at Morgan Park in Chicago.
Net Worth.
Chef Graham Elliot's net worth presently stands at $1.5 million. As expected, most of his wealth comes from his exploits in the culinary world. He is the proprietor of several luxurious restaurants, each of which serves adequately priced exquisite meals.
Other than this, Elliot has also featured in some of the best cooking shows on television. It is estimated that television personalities bring in around $20,000 every time they appear on television.
Income from the sales of his books also is a source of his income.
Graham Elliot Weight loss Journey.
Being a chef often exposes one to a great deal of food, with arduous working hours that leave practically no time for self-care. This is what happened to Elliot, who at his peak, weighed around 400l bs; this was down to the fact that he was constantly surrounded by carbs every day.
Despite having an amazing cooking career his weight possessed serious risks.
After realizing that it was time for him to lose weight, he started to look into options on how to do so. Two, in particular, piqued his interest; duodenal switch, for one. However, this would have left him unable to ingest food. The next option was a gastric bypass, which meant reducing the size of his stomach.
After the surgery, Chef Graham reportedly lost about 150 lbs. When he was fully healed up, he also took up jogging to get into even better shape. In addition to this, he is very particular about the amount of food he consumes, making sure to take in more fiber and protein in his meals.
His weight loss resolved a lot of his health problems: reducing his cholesterol, and sugar levels for instance.
Early life and education.
Elliot was born on 4th January 1977 in Seattle, Washington to John Bowles and Kate Tippett. Being a navy brat, it comes as no surprise that a good chunk of his childhood was spent venturing across different parts of the world.
Unsurprisingly, his travels brought about a wide range of palettes, influencing his style of cooking. He has traveled all around the world and all the states across America. Elliot was educated in Culinary School at Johnson & Wales in 1997.
Restaurants.
Chef Graham began his solo venture with Graham Elliot in 2008.
He owned Grahamwich, a sandwich place which he closed due to his work schedule at Television.
Elliot also founded Eponymous a French Fine dining restaurant.
Another restaurant he started was Graham Elliot Bistro. Unfortunately, it shut down by
Currently, he owns Petit Harvest which is located near Santa Monica Farmer's market providing recipes made from organic ingredients harvested from around the location.
He also presents at Coast in MGM Cotai in Macao, which serves contemporary cuisines from the star chef.
Other facts.
Elliot enjoys playing guitar and singing. Sources say that his love for music stretches all the way back to his
He stands tall at 6 ft tall, boasting brown eyes and dark brown hair. All of this pales in comparison to his charismatic personality.
Before Graham joined a culinary arts school, he was a busboy and dishwasher at the age of eighteen.
His restaurant, Avenue, has earned the AAA Five Diamond Award.
Elliot cooks for The Heart and Stroke Foundation.
His restaurant, Graham Elliot, was amongst only 15 other restaurants in the entire U.S. to receive two Michelin stars.
He has also participated in the bank of America Chicago Marathon.
Chef Graham was also a guest at the three-day music festival in Chicago, participating as the Culinary Director at Lollapalooza.
Elliot has also written a book with Gordon Ramsay and Mary Goodbody called Cooking Like a Master Chef: 100 Recipes to Make the Everyday Extraordinary.