Giada De Laurentiis is a 52-year-old Daytime Emmy Award-winning Italian-American celebrity chef. She is most recognized for her decades-long appearances on Food Network's culinary show, Giada at Home. She is also one of the 100 Most Powerful Pople in Global Hospitality.
Her love for cooking started early, and she worked in several famous restaurants in the US after training in Paris. However, her exceptional culinary skills caught the attention of the Food Network, and she has been a regular on their shows since 2002.
Now, as the chef has been a familiar Food Network face, recent news suggests that she is leaving the Network after over 2 decades. The news has not only left her fans in shock, but they are also worried about curious about the reason behind her departure.
So, to abridge the public's curiosity, we will discuss the cause of her exit and shed light on her future plans.
Let's get started.
Is Giada De Laurentiis Leaving Food Network? What Happened?
According to People's report on February 2023, Giada De Laurentiis is departing from the Food Network after 21 years. As the chef suddenly announced her exit from the show, the public thought it could be because of some misunderstanding between the 2 parties. However, that is not the case.
They are on good terms, and Food Network even said that Giada will always have an open seat on the Network. One of the workers on Food Network stated,
"Food Network will always be proud of the beautiful content we have created together, and our table will always have an open seat for Giada,"
He further claimed the chef as "culinary royalty."
Despite Laurentiis's exit from Food Network, her programs, like, "Giada at Home" and "Giada Entertains," will keep airing on the Network. We assume she decided to leave the Network to move forward with other things in her career.
Giada De Laurentiis's Career on Food Network?
The chef's career in Food Network began in 2002 with the magazine, "Food & Wine." In 2003, she was signed to host the daytime show "Everyday Italian."
Initially, the chef said she was uncomfortable in front of the camera, and even the show viewers accused the Network of hiring an actress to pretend as a real chef. However, she realized she was not secure enough and soon overcame it.
Soon Giada began to appear on other shows on the Network, including "Behind the Bash" in 2005, "Giada's Weekend Getaways," and "Giada in Paradise," in 2007. In the same year, she also appeared as the guest judge of "The Next Food Network Star."
In 2008, she began hosting "Giada at Home," which is one of her most loved shows. Some other shows she hosted on Food Network are "Giada in Italy (2015)," "Giada Entertains (2016)" "Giada's Holiday Handbook (2015)" "Giada on The Beach (2018)" "Winner Cake All (2019)" "Bobby and Giada in Italy (2021)" and "Simply Giada."
Hence after presting dozens of hit shows on Food Network, the celebrity chef has finally bid farewell to her co-workers there.
What is She Doing Now?
At present, Laurentiis has now signed a contract with Amazon Studios. As per Deadline, the chef and the studio have partnered with a multi-year agreement for the production of unscripted series.
The agreement says that Giada will now be working on developing and producing lifestyle and culinary TV shows for the Amazon network. In one of her Instagram posts, she revealed being a fan of the Network and said she was very excited for the next chapter of her life.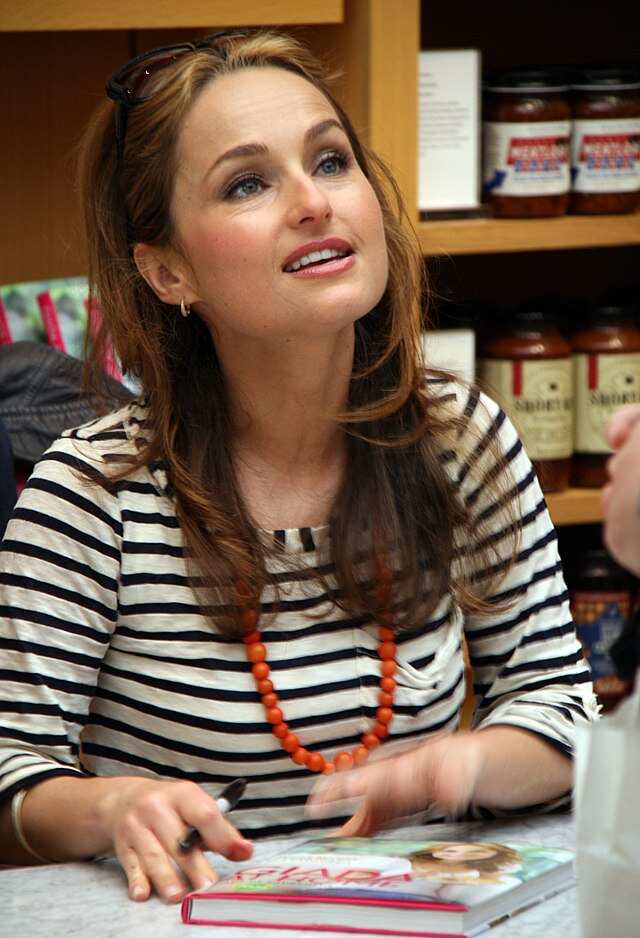 Likewise, apart from television, she is also busy with the opening of her new restaurant, Luna by Giada. On 19th April 2023, the chef gave her followers a little sneak peek of her under-construction restaurant in Scottdale, Arizona.
As per the updates, the restaurant is all set to open on February 2024. The chef owns other restaurants, "GIADA" and "Pronto by Giada," in Las Vegas and GDL Italian by Giada in Baltimore, Maryland.
Apart from that, the celebrity chef also has a cooking products line on Target.