Ina Garten roasted tomato soup recipe is based on fresh herbs and tomatoes. It has a rich flavor and is truly perfect for chilly spring nights.
The tomato soup is blended into a puree rather than using a food mill. Also, it can be prepared in a huge food grinder or, more importantly, a powerful blender. The final result is fantastic, with a great deal of garlic, fresh basil, and thyme.
Nutrition Facts
| | |
| --- | --- |
| Calories | 228 |
| Sodium | 186.4mg |
| Fat | 17.7g |
| Sugar | 7g |
| Protein | 5.5g |
| Carbohydrates | 14.5g |
| Cholesterol | 11.2mg |
Health Benefits
Ripe plum tomatoes used in this dish have beta-carotene and Lycopene which helps to decrease bad cholesterol (or LDL).
As olive oil is used to stir tomatoes, it is beneficial for your health. Olive oil is rich in antioxidants and heart-healthy fats and it is also good against type 2 diabetes, heart disease, and breast cancer.
Ina Garten roasted tomato soup also includes fresh basil leaves which is the essential herb helping to control blood pressure.
Thyme leaves are also an important component of this dish, which have chemicals that may help with conditions like patchy hair loss, cough, dementia, and fungal infections.
Who should avoid Roasted Tomato Soup?
Roasted tomato soup is prepared healthily with ingredients rich in nutrients. Thus, everyone can have it without any health issues.
You can obtain the quality of proteins from this dish as it has components like olive oil, ripe plum tomatoes, garlic, and fresh ground black pepper.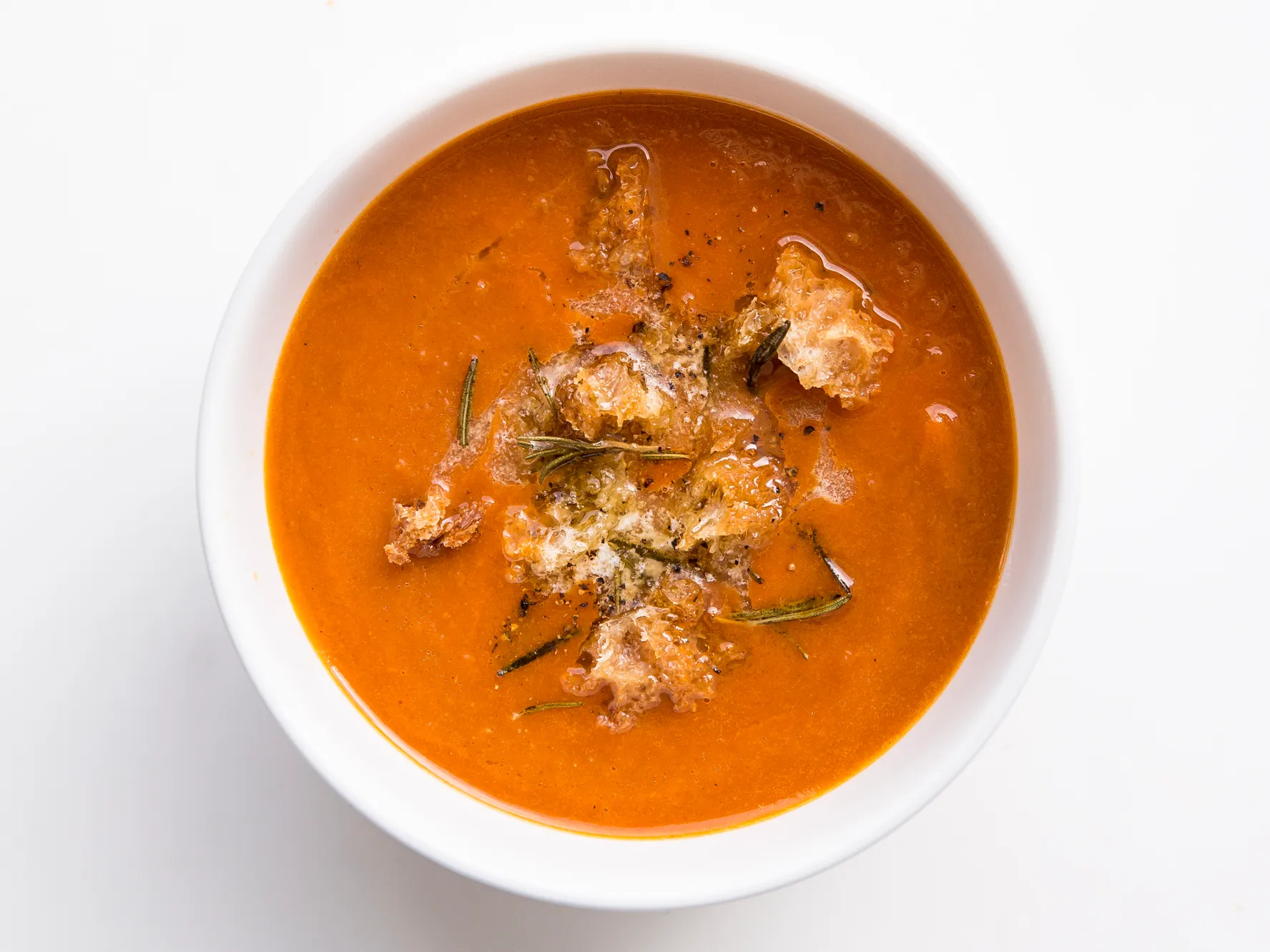 Roasted Tomato Soup is best for dinner
Ina Garten roasted tomato soup is best as dinner during the winter time. This delightful dish with the sweet and caramelized flavor of tomatoes makes it perfect to serve on many occasions. Also, your whole family will love this tasty meal. It can also be frozen in the refrigerator so you can have a bowl of this soup wherever a craving occurs.
Total Time required
With the help of Ina Garten's recipe, the roasted tomato soup can be prepared within 1 hour and 50 minutes. This Italian cuisine needs a preparation time of 15 minutes and a cooking time of 1 hour and 40 minutes.
This 5-star-rated dish includes plum tomatoes, thyme, and fresh basil. When you master this simple dish, you can add extra flavors like Parmesan cheese, croutons, and a drizzle of fresh pesto.
Ingredients
Ripe plum tomatoes (3 lbs), splice in half lengthwise
Olive oil (¼ cup plus 2 Tbsp)
Chopped yellow onions (2 cups)
Garlic cloves (6); minced
Butter (2 tbsp); unsalted
Crushed red pepper flakes (¼ tsp)
1 (28 oz) can full plum tomatoes, including juice.
Fresh basil leaves (4 cups); packed
1 teaspoon fresh thyme leaves (½ teaspoon dried)
Chicken stock (4 cups), particularly homemade or may use supermarket-purchased
Kosher salt
Fresh ground black pepper
Procedure
Set the oven to 400° Fahrenheit. Using parchment paper, line a baking sheet and put it aside.
Stir the tomatoes gently with ¼ olive oil. Then, set in a single layer on the prepared baking sheet. Add salt and pepper to taste and roast it for 45 minutes.
Put olive oil and butter in a huge dutch-oven and melt it over medium heat. Add a pinch of salt, garlic, onions, and red pepper flakes. Saute for about 10 minutes or until the onions become brown.
Add thyme, basil, and canned tomatoes, also add the juices of the tomatoes, as well as chicken stock. Also, sprinkle salt and pepper according to taste. Put the soup back to a simmer and boil it for 40 minutes.
Place the soup in a mixture, and mix unless totally soft. Add salt and pepper to taste. Garnish with a dollop of sour cream or drizzle of cream, fresh herbs, and topped with grilled cheese.