Are you a food enthusiast who loves yummy food but is worried that it may be unhealthy? If yes, we guess you have not heard about the famous Mexican food, shredded chicken burritos.
It is a beloved dish that not only fulfills your hunger but will also satisfy your taste buds. So why not learn to amke this tasty cuisine to impress your friends and family?
Here, we have provided a step-by-step procedure on how you can prepare shredded chicken burritos without frying your brain. Additionally, we will aslo be discussing the health benefits of this dish.
So adhere with us until the end.
When to Have Shredded Chicken Burrito? Best as Dinner/Lunch/ or Breakfast?
Shredded chicken burritos are a great meal choice that can be consumed anytime. However, it is considered best to be consumed during breakfast or lunch.
Health sites have said eating heavy burritos with lots of cheese and sour sauce may cause heartburn and gas problems. But, having it during breakfast or lunch will not only keep you full all day long but will also maintain your energy level for work.
Health Benefits of Shredded Chicken Burrito: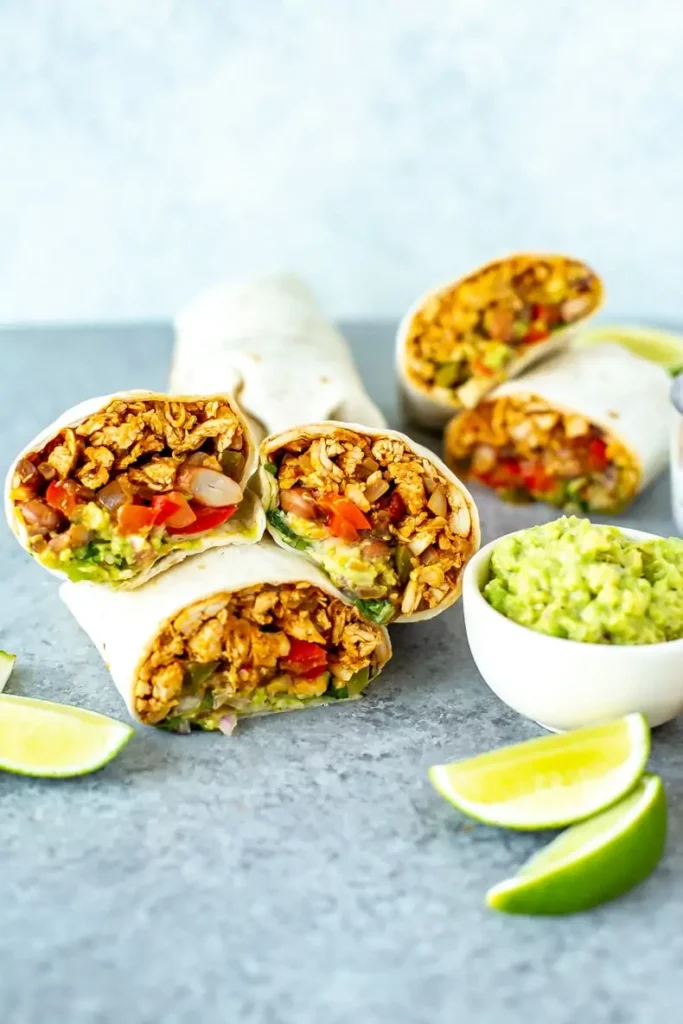 Various online portals claim shredded chicken burritos as a healthy and tasty option to fulfill your hunger and cravings. However, the health benefits actually depend on the way these burritos are made.
If appropriately made without artificial flavors and ingredients, shredded chicken burritos are a great source of protein as they have ample chicken in them. Similarly, it might be a healthy option if long-grain rice is replaced with brown rice and wheat tortillas are replaced with whole-grain ones.
Similarly, you can also add greens and other seasonal vegetables to make them more nutritious.
Nutrition Facts
According to My Net Diary, a shredded Chicken Burrito has 1,116 calories. The cuisine consists of 134 gm of carbs, 59 gm of protein, and 45 gm of fat, where 13 gm is saturated fat.
Likewise, it also consists of 1,414 mg of sodium, 125 gm of cholesterol, and 5 gm of sugar. Interestingly it will take an average person over 8 hours of walking to burn 1,116 calories.
Who Should Avoid Shredded Chicken Burrito?
Well, everyone can have shredded Chicken burritos until it is homemade or consists of healthy ingredients. But it also depends on personal diet preference.
However, as market-sold burritos may not be made with such options, people who are tracking their calories to maintain a healthy life must avoid them. Likewise, as some burritos consist of a large amount of cheese, saturated fat, sour cream, and sodium, they may not be healthy for people with diabetes or heart issues, or fat-intolerant individuals must seek an alternative to this dish.
Also, you must not consume shredded chicken burritos if you are intolerant to certain ingredients. Nonetheless, if you have any doubts, you can always consider consulting with your dietician about whether or not you should avoid shredded chicken burritos.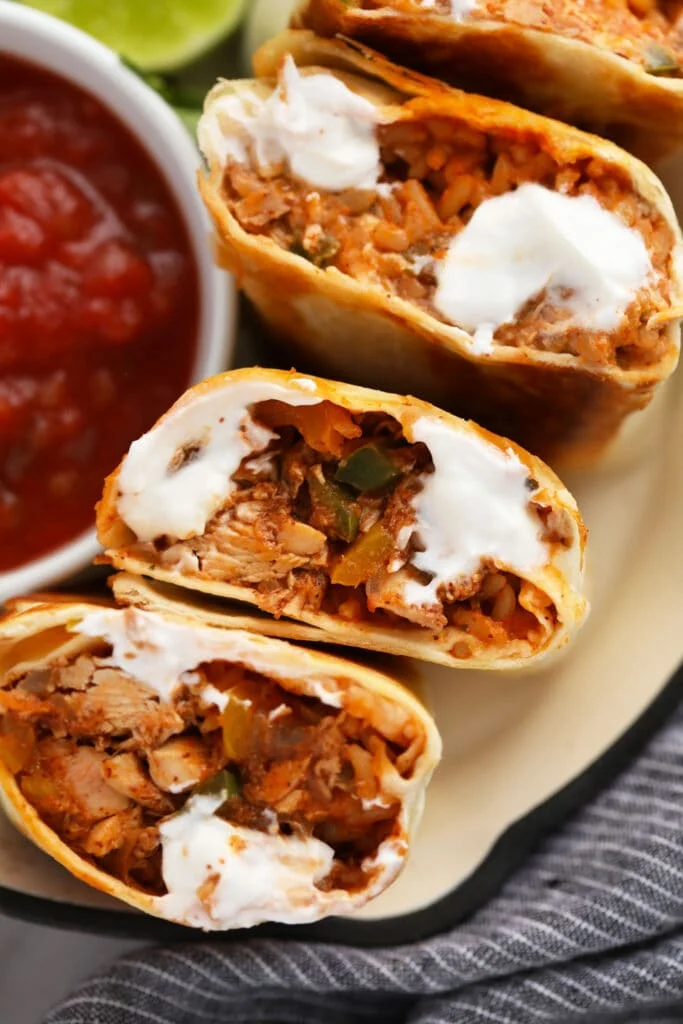 Total Time Required To Make Shredded Chicken Burrito
You can make this simple chicken burrito in just 10 minutes, i.e., the exact cooking time. However, the preparation might require you for about 20-30 minutes.
Required Ingredients
Use these simple ingredients for your special shredded chicken burrito;
1 tablespoon of olive oil
500 grams of deboned chicken thighs
1 thick and chunky salsa
120 ml of water
Rice packet, 250 gm long grain, microwaveable
Grated cheddar cheese, 240 gm
1/4 teaspoon of garlic powder
8 Super Soft Flour Tortillas
100 g of lettuce leaves mixed
10 cherry tomatoes, lengthwise chopped
One Cold Sour Cream Topping
Step-by-Step Procedure for Shredded Chicken Burrito.
Let's follow the 8 easy steps below to make a shredded chicken burrito without any hassle.
Step 1: Warm the oil in a large frying pan over medium flame.
Step 2: Keep the chicken in the pan and cook it thoroughly until it gets golden brown. Make sure it is not pink (raw) from the inside.
Step 3: Switch off the gas, take the pan off the heat, and transfer the chicken to a bowl. Then shred the chicken with the help of forks.
Step 4: Take a large saucepan and boil the salsa and water. Then put the cooked rice and let it sit there for 5 minutes before turning off the heat.
Step 5: Then mix garlic powder and the shredded chicken together.
Step 6: Now, take the flour tortillas and heat them in the microwave for 35 to 45 seconds.
Now that the fillings and tortilla are ready let's wrap our burritos,
Step 7: Take a spoonful of shredded chicken and mix it with rice and place them on each tortilla. Add some lettuce leaves or any veggies of your choice.
Step 8: Finally, put some cheese and sour cream on top.
Voila, your special shredded chicken burrito is ready to serve. Enjoy it with your loved ones or even alone.