Ree Drummond, alias "The Pioneer Woman" is not only a famous cook and lifestyle expert but also a proud mother who supports her kids in everything they do. Recently, she showed up at her son Bryce's college football game to cheer him on and share her excitement with her fans on Instagram. From dropping him off at college to helping him move into his dorm room, Ree's dedication to her family is evident. Her passion for cooking and entertaining, combined with her unwavering love for her family, has made her a beloved figure to fans worldwide.
Ree Drummond: The Pioneer Woman and Beloved Mom
Ree Drummond is a well-known cooking and lifestyle expert who began her blog in 2006. The blog has since turned into a TV show on the Food Network, cookbooks, and even a restaurant.
Ree shares her favorite recipes, cooking tips, and entertaining ideas while giving us a glimpse into her life on a ranch in Oklahoma with her family.
Her charming personality and delicious recipes have garnered her a huge fan base, affectionately known as "Pioneer Woman" fans. Apart from being a famous cook and blogger, Ree is also a proud mother who loves to support her kids in everything they do.
Supporting Bryce: From UNT to Oklahoma State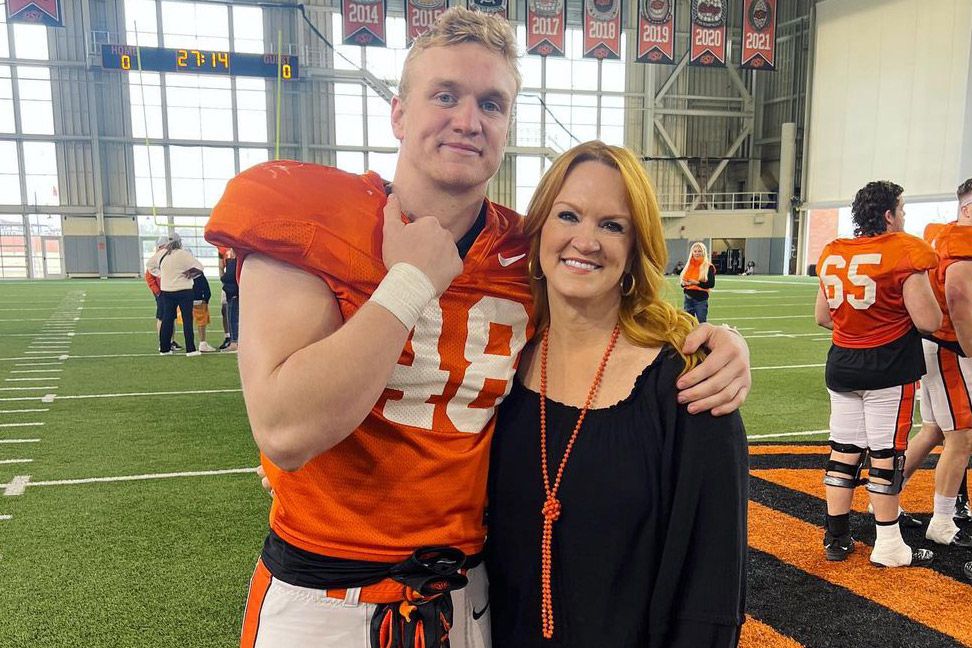 Recently, the proud mom showed up at her son Bryce's first college football game, dressed in green to show her support for the University of North Texas team.
With her daughter Paige by her side, Ree cheered Bryce on and even waved a green pompom in the air like a true fan. She also shared her excitement with her followers on Instagram, giving us all a glimpse of her mom's pride.
Bryce may have started his college football journey at UNT, but he's now playing for Oklahoma State University as a preferred walk-on. Ree is still supporting him every step of the way, wearing an orange necklace to match Bryce's new team colors.
She even posted a throwback pic of young Bryce holding a football, showing that he was destined for greatness from the start.
Family Football Legacy
Ree's family is a true football dynasty. Her son Todd is playing for the Coyotes at the University of South Dakota, while her foster son Jamar is making plays at the University of Central Oklahoma. The Drummonds are always present at their games, showing the value of family support both on and off the field.
Ree's Dedication to Family
The famed persona's dedication to her family is evident, especially when her son Bryce joined the UNT football team. She drove over 500 miles to drop him off and made sure he had everything he needed for dorm life, making two trips to Walmart to stock up his dorm kitchen.
When it was time for spring practice, Ree and her husband Ladd hit the road again to take Bryce to UNT, with Alex and Mauricio helping him move into his new room.
Final Thoughts
Overall, Ree's commitment to her family and her passion for cooking and entertaining has made her a household name. Her fans adore her, and her family's support and love serve as an inspiration to us all.